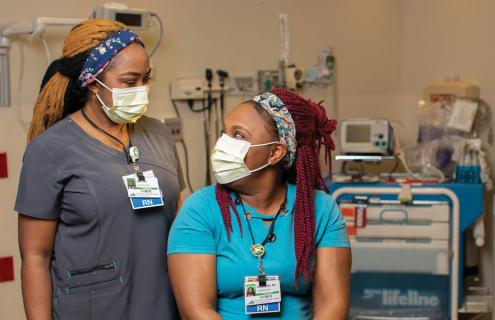 Building an international workforce: A special collaboration is paying off for everyone
In 2019, Cheshire Medical Center entered into an agreement with Avant Healthcare Professionals to help establish an international nursing workforce opportunity. International nursing programs address both the needs of recruiting health care organizations and international nurses.
Here at Cheshire, we appreciate the opportunity for a wider recruitment of nurses and the benefits of a more diverse workforce. We are also committed to creating opportunities for international nurses to achieve their personal goals and dreams. Most importantly, our patients benefit from skilled and compassionate care from this group of professional nurses.
Two international nurses navigate their way with the help of a welcoming community, and each other
Ann Ihekoronye, RN, traveled over 5,000 miles from Nigeria in 2019 to start a new job — along with a new life in a different climate, in an unfamiliar landscape that held different people belonging to a different culture.
Quite frankly, it was a lot to process. But on her first day at Cheshire Medical Center, she was comforted by the smiling face of Felecsha Cohall-Johnson, RN. "She said, 'Relax your mind. Things are going to work out,'" says Ann, who was working as a nurse on the Progressive Care Unit (PCU) at the time.
"Because initially, I was already feeling lonely. I know that. That was a good one to welcome."
"That was your first day?" says Felecsha, sitting nearby, beaming at her friend.
"Yeah, that was my first day," Ann says back to her.
"Oh my God, I didn't know that," Felecsha, bursting out into a laugh. "I brought her home. She didn't have a ride."
Upon Ann's first day at work, her car still wasn't quite ready yet. So Felecsha drove her home, and they've been close ever since.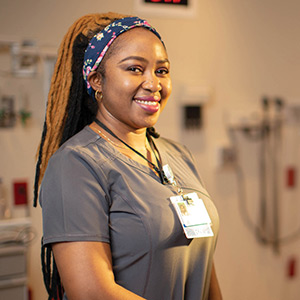 That was one in a series of obstacles and hurdles that both women have adapted to and overcome with the help of Cheshire staff and community members — and each other — since they arrived in the United States nearly two years ago.
Felecsha — or "Fel" as she's known to friends and fellow staff — relocated in July of 2019 from Jamaica. Both women had been nurses in their home countries and came to America in search of better opportunities for themselves and their families through Avant Healthcare Professionals, a staffing specialist agency for internationally educated registered nurses, physical therapists, and occupational therapists.
When they found out they would be living in New Hampshire, both women had identical reactions: Wait, where?
"I had to Google the state because I didn't hear of New Hampshire before," Fel says. "Everyone was saying, 'Where in the world is that?' And I was like, 'It's in America!'"
Ann relied on Google, too. Every day after work in Nigeria, she'd head straight to her phone. She Googled "New Hampshire." She Googled "Keene." She Googled "Cheshire Medical Center" and all of its various departments.
"So when I came [to America], it was like, I'm used to the environment because I keep looking at them every day,'" Ann says. "I was used to the hospital environment, so to say. But some of the streets I actually Googled while I was still in Nigeria. So whenever I drive through them [now], I'm like, 'Yeah, I saw this when I was going through the Google.'"
Both women have since acclimated to Keene. They've settled into their roles on the Thompson unit. They've also adjusted to the climate, although Fel says some of the staff did laugh at her "bundling in my bundles" as the temperatures dipped low and lower during her first New England autumn.
While the Granite State, the Monadnock Region, and Cheshire strive to increase diversity, they are still home to a predominantly white population. Fel noted this during her Google searches, and she had to overcome her anxiety about becoming a new minority member of our community.
"I kind of felt like, 'Oh my God, I don't think I'm going to function here, or I'm not sure how welcoming it's going to be as a Black person," Fel says. "I wanted to tell my company that I wasn't coming. But we're from more God-fearing populations, so I prayed about it and was like, 'OK God, is this what you want for me? If it's not what you want for me, you will remove it.' And then I came."
When Fel arrived, the staff on the Progressive Care Unit (PCU) greeted her with open minds — and open search engines. It turns out Fel and Ann weren't the only Internet sleuths. The staff had done some Googling of their own, researching Jamaican culture, food, news, popular slang — anything to help Fel feel like she wasn't so far from home.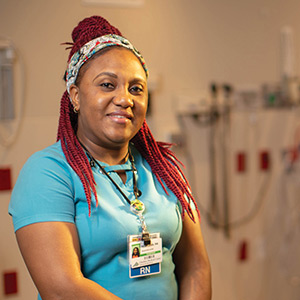 "It was welcoming," says Fel, who remembers people going out of their way to support her. "They always tried to help me when I was on duty, asking me if I needed anything. So when I get people helping me in that way, I'm like 'OK, I feel at home already.'"
Now nearly two years later, both Fel and Ann are on the verge of completing their Bachelor of Science in Nursing (BSN) degrees online from Grand Canyon University. Earning their degrees within two years in America was on both of their to-do lists.
Their families have settled in, too. Fel's husband, Kirk Johnson, is a licensed nursing assistant (LNA), and their two young sons attend school in Swanzey. Ann's husband, Kolawole Oke, works at The Home Depot in Keene.
But that doesn't mean they don't get homesick. Fel, who wears a small Jamaican flag and palm tree on the lanyard that holds her Cheshire ID badge, has a brother in New York and a sister in New Jersey; everyone else is still in Jamaica. She talks to them every day.
There is one thing, try as they might, they both miss.
"The food!" Fel exclaims.
"I miss my African food a lot," Ann says, shaking her head with commiseration.
While Fel uses her Jamaican spices to liven up the food she cooks at home, and Ann can usually find her preferred selection of vegetables, they say it's just not the same. Especially the cucumbers, which are vastly different here than in their home countries.
"They're tough," Fel says. "They're bitter!"
"I started going for the baby cucumbers," Ann says. "They taste better."
"I'll have to try those," Fel says.
Fel and Ann are embracing their new lives — from cars to cucumbers, and everything in between.