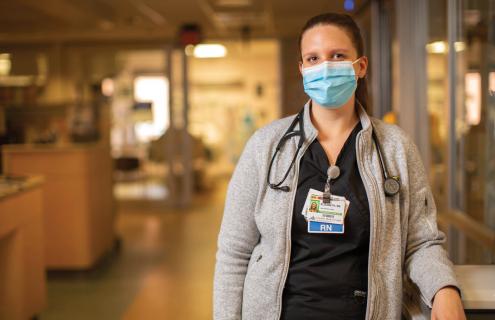 Sometimes life is pretty straightforward. You go to school, decide what you want to be, and embark on your career.
Elizabeth Duquette thought she had it all figured out. A graduate of Keene High's early childhood education program, Duquette worked full-time as an associate teacher at The Children's Learning Center at Cheshire Medical Center. She was on her path.
"I babysat a lot," she said. "I nannied for families here at the hospital, and thought 'This is what I want to do. I want to work with kids.' " Elizabeth, who's known as "Bizza" to her friends and co-workers, says with a laugh. "It's always been who I am."
After about a year at The Children's Learning Center that Elizabeth says "shaped me as a young adult," she started thinking about a career in health care — specifically nursing. She decided to enroll in the LNA program through the Red Cross in Keene (a program that is now available at Cheshire).
She started at Cheshire as an LNA in 2014 and never looked back. "Once I got my LNA, I decided this is definitely what I want to be doing. It was a very easy decision."
"I love helping people," says Elizabeth, who earned her Associate in Science in Nursing (ASN) degree from River Valley Community College in 2018. She later became licensed as a Registered Nurse (RN) after passing the National Council Licensing Examination for Registered Nurses (NCLEX-RN).
Seven years later, she's an RN in the Post Anesthesia Care Unit (PACU) and just earned her Bachelor of Science in Nursing (BSN) from Southern New Hampshire University, the hard-earned result of taking night classes over the past two years.
While the careers are different — there's considerably less finger-painting and story-time on the PACU — Elizabeth says there is some overlap, which made the transition easier.
"At the end of the day, you're helping people," she says. "You are a caregiver to another person. And that's always felt very natural to me."
Pam Switzer, RN, clinical leader of the PACU, calls Elizabeth a "tremendous asset."
"She is hard-working, willing to take on any task, and incredibly caring with all her patients," Pam says. "She is also very motivated and has worked hard to continue her education by recently getting her Bachelor's Degree in Nursing. We are so lucky to have her on our team!"
Elizabeth says school was always challenging for her. However, she was probably a much better student after working in the real world for a few years than she would have been if she had attended college fresh out of Keene High, she says.
"Those few years after high school, I was in such a different mindset," she says. "There's a goal at the end this time: being a nurse. You have to do the work, and you have to pass your boards at the end. There's no way around it."
When she's not working — or learning — you can usually find Elizabeth cooking, baking, or hiking with her husband and her dog, Boone, an 11-month-old lab/hound mix who she rescued from Tennessee.
As for anyone who's thinking of a possible career change to nursing, Elizabeth's advice is simple: Try it.
If you think you want to get into health care, get that LNA and try it out — see how it goes for you. It solidified in my mind that I wanted to continue to become a nurse.

Elizabeth Duquette
Elizabeth calls being an LNA "the hardest job I've ever had," and adds that nursing assistants rarely get enough credit for what they do.
But, in the end, the work is worth it. Especially if it helps you find your path — even if you think you're already on it.
For those looking to continue their education, Cheshire Medical Center offers plenty of programs and scholarships to help you reach your goal. Elizabeth used Cheshire's tuition reimbursement program to help pay for her bachelor's degree. Coupled with a scholarship, this financial assistance resulted in very few out-of-pocket expenses.
For more information about tuition reimbursement, email Human Resources at humanresources@cheshire-med.com or call 603-354-6520.
For information about available scholarships, email bpenniman@cheshire-med.com or call 603-354-5454 x2410.
For information about our free, paid Nurse Assistant training program, visit the Workforce Readiness Institute website, or call Sarah Tatro at 603-354-5454 x2317.