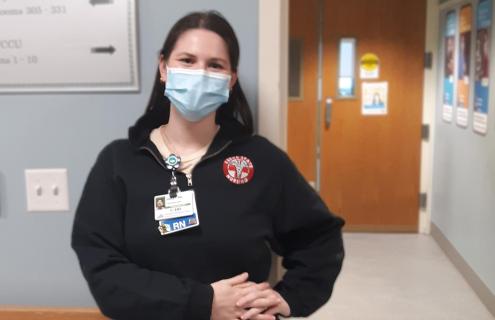 "Sometimes patients just need someone to talk to, and I am a very chatty person," says Darby Demoura. She is an RN who currently works the night shift at Cheshire Medical Center's Thompson Unit, a progressive care unit where many acutely ill COVID patients received care in recent years. "I actually feel like I am helping people here at Cheshire. I matter more here."
Darby first started at Cheshire in 2018, just a year after finishing nursing school at Keene State College. She chose Cheshire because she was still living in Keene, so it was closer to home, but there were many other perks. She appreciates the culture of the place.
"I have very much enjoyed my time at Cheshire," she says. "The crew here is very good to work with, and everyone is very friendly and approachable. There's a great sense of teamwork—always somebody there to help, and coworkers will go the extra mile to make your shift go better."
After about two years at Cheshire, Darby tried working at a nearby nursing facility. Her husband was taking a job there and she accepted a nurse-education position that she thought would offer a good opportunity for advancement. But she didn't enjoy working at a desk, or other negative aspects that she felt were part of the administration there, so she left after six months.
"I didn't like being away from bedside," says Darby. Although she misses commuting with her husband, she does not miss the culture of "petty drama."
"I would ask a nurse to help me boost a patient up and she would look at me like I had seven heads. Here at Cheshire all you have to say is 'hey can anyone help,' and four people will jump up and help you out."
When she is not helping patients at Cheshire, Darby likes spending time with her husband, reading, listening to music, and watching TV, although she avoids medical shows. She has a 1-year-old golden retriever, so fortunately she also likes throwing tennis balls endlessly. She looks forward to moving back to the day shift, so she is not sleeping through all the fine spring and summer weather.
"I'm so glad to be back with patients. At the nursing facility I never felt like what I did was important—like it affected anyone directly. I make more of a difference working with patients at Cheshire, even if it is only relieving someone's anxiety or loneliness. I try to have conversations with people as people, not patients."
For more about nursing at Cheshire Medical Center, visit cheshiremed.org/nursing