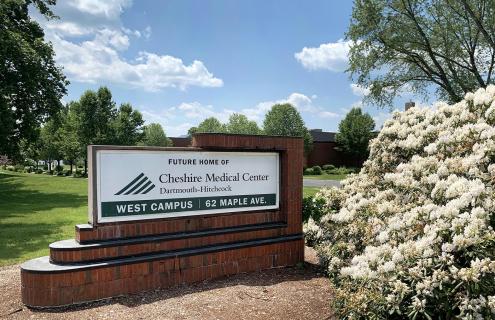 Cheshire Medical Center, a Dartmouth-Hitchcock Health member, is pleased to announce the purchase of 62 Maple Avenue, the former Peerless Insurance building, in Keene. The purchase of the 147,000 square-foot building on 47 acres of land was finalized on May 24, 2021.
Cheshire's Board of Trustees reviewed and approved phase 1 of the 5-year strategic capital plan, which includes renovations at the West Campus on Maple Avenue to house a new Family Medicine Residency program, and other enhancements at Maple Avenue and on the main Court Street campus to maximize growth of the organization.
"We have been exploring potential clinical expansion opportunities for the last few years, both on the roughly 12-acre main campus at 580 Court Street in Keene and real estate within a 5-mile radius," said Dr. Don Caruso, president and CEO of Cheshire Medical Center. "The purchase of this property gives us the opportunity to build a Family Medicine Residency program and expand key clinical services that our community needs now and into the future. The creation of a West Campus is an enormous opportunity for Cheshire Medical Center and our patients throughout the Monadnock Region."
The strategic capital plan includes three phases starting with the establishment of a Family Medicine Residency program at the new West Campus requiring 25,000 square feet of space. Phase 2, beginning in the next one to five years, includes programmatic expansion and will encompass 50,000 square feet. The remaining 72,000 square feet will be reserved for future use.
The opportunity to add a Family Medicine Residency program at Cheshire comes at a critical time when community health needs make it necessary to train more primary care physicians. Cheshire's program will address the challenge of recruiting primary care physicians to rural regions considering physicians are more likely to remain in practice in the state where they complete residency training, with 56% remaining within 100 miles of their training site.
Christopher LaRocca, MD, currently a Clinical Associate Professor of Community and Family Medicine at The Geisel School of Medicine at Dartmouth—the fourth oldest medical school in the nation—serves as the director of Graduate Medical Education and Family Medicine Residency Development at Cheshire Medical Center. Dr. LaRocca has practiced at Cheshire since 1987, providing preventive, acute, and chronic care to individuals of all ages.
"Nearly all primary care, and specifically family medical care, occurs at the local, community level," said Dr. LaRocca. "Therefore, to best train family physicians, it is important that the bulk of that training occur at the community level, including hospital, outpatient, and population care. Exposure to high-quality, team-based, compassionate, and respectful care at Cheshire will be critical to developing the competencies of a family medicine resident. Learning family medicine also requires developing knowledge of the community's resources, how to work within them, and how to grow them."
The Residency program at Maple Avenue will be separate from Family Medicine at the main campus. Faculty physicians and residents will provide full-spectrum care to their patients at Maple Avenue and in the hospital. Plans call for 18 residents, with the first class of six residents starting in July 2024. The residents will add a new dimension to care at Cheshire and will bring a diverse set of knowledge and experiences as they continue their training and prepare to become independent providers.
Design planning for Cheshire's Family Medicine program on the West Campus has begun, blending goals for the facility that includes high-quality patient and community care, an excellent patient experience, and an outstanding education for residents. Cheshire has hired a firm to evaluate the facility at 62 Maple Avenue and the main campus buildings relative to the strategic plan to maximize efficiencies.
About Cheshire Medical Center
Cheshire Medical Center (Cheshire) is a Dartmouth Health member providing the communities in the Greater Monadnock Region a continuum of care spanning primary care and specialty medicine, to surgical services and acute inpatient care. For more than 130 years, Cheshire has been a key contributor to the health and vitality of the Monadnock Region. As a not-for-profit community medical center, Cheshire is deeply committed to delivering excellent care in a safe and welcoming environment. Cheshire is dedicated to being a great neighbor and serves as an integral community resource. Cheshire is the area's largest healthcare provider and leading employer. Along with the services delivered on their Keene campus and satellite locations, the Medical Center partners with local organizations to provide vital services and programs throughout the region. To learn more, call 603-354-5400 or visit the Cheshire Medical Center website.