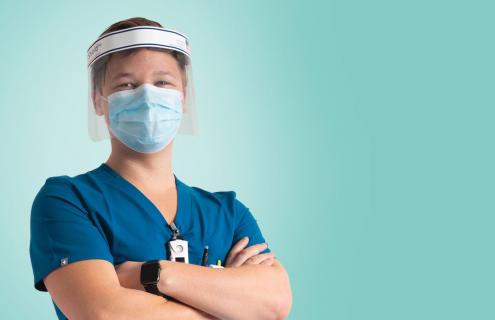 "I was drawn to Cheshire Medical Center because I have family that work here and heard it had an excellent work culture," says Calvin, who works as a Registered Nurse (RN) in the Thompson inpatient unit. "I stayed because that turned out to be true."
Calvin grew up in Rindge and went to Conant High School, which offered a good honors program and even paid for him to take his first college class at Franklin Pierce University during his senior year. He worked as a fitness instructor and lifeguard at Monadnock Community Hospital's Bond Wellness Center for five years, while attending Mount Wachusett Community College. At first he was going for a business degree, but he found nursing more rewarding and worked in Cheshire's Intensive Care Unit before graduating.
"I like doing something useful and I have a passion for working with people," says Calvin. "Nursing is difficult and profound. You will work to the end of your ability and it will not feel like enough. But at the same time, it is fulfilling, provides the best coworkers, and provides no shortage of things to think about."
When he's not working, Calvin manages to find time to read and spend time with his fiancé. He thinks everyone should read Friedrich Nietzsche's Beyond Good and Evil at some point, and has recently gained inspiration from Dr. Jordan Peterson's lectures on The Psychological Significance of the Bible.
"I'm drawn to philosophy because it informs us about why we do what we do—even in medicine, which is traditionally very practical," he says. "There is a complicated—and very post-modern—philosophy driving medical philosophy that is worth looking at."
Calvin has found a home at Cheshire Medical Center, although he still gets patients who are excited to make the connection to his large extended family back in Rindge. He is continually impressed with Cheshire's nursing leaders and hospitalists.
"Aside from nursing being my dream career, I think our leadership is remarkably hardworking, and they always make an effort to help, or to teach, when needed," he says. "Sometimes I get an opportunity to make a real positive difference in someone's life—and it's those moments that make the fact that I have to take work home with me every day worth it. My feeling is that if I am going to work the majority of my life, why not do one of the hardest and most useful things I can?"
At Cheshire Medical Center, we are always looking for great people to join our diverse team, including many non-clinical positions. To learn more and view open positions, visit our careers page.