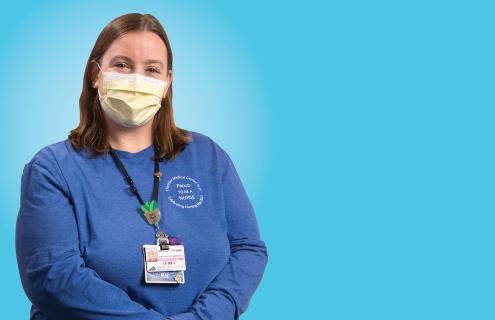 "Nursing is made up of a million small victories and unfortunately some losses, but I am very proud of the team I work with," says Bridget Murphy, RN, a nursing supervisor for the overnight shift at Cheshire Medical Center. "We truly rely on one another, and we have created a family that feels like home away from home."
Bridget started at Cheshire as a new graduate nurse in 2017. She knew Cheshire was a great place to work because she had worked in the lab as a phlebotomist while she was gaining her nursing school prerequisites. "Additionally, I live in this community and wanted to do my part to help my loved ones and our neighbors."
In January 2021, with the COVID pandemic surging and causing stressful, uncertain work environments, Bridget felt compelled to consider other employment options—to try something new. "Honestly, nursing is hard, demanding, often thankless work, and the start of the pandemic was so very tough," she says.
Bridget knew she could make more income per hour in long-term care, so she cut her work at Cheshire back to per diem, keeping "one foot in the door," and worked full time at a long-term care facility in the community.
"Earlier in my life, I was a home health aide and I thought long-term care would be similar," says Bridget. "But it was not. It was very structured and there was no time to spend with the residents. Additionally, the pandemic was still in full swing. I could not escape it, even in a long-term care facility." She happily returned to full time employment at Cheshire in August 2021.
Compared to her experience in long-term care, which she found monotonous, her current job is multi-dimensional and varied—it's something different every night.
"My favorite part of my job is the incredible amount of knowledge I have gained. And it's not just nursing knowledge. I have learned about life, about limits and overcoming obstacles, about teamwork, about getting up and dusting off, about friendship and about work families.
When she is not at work, Bridget enjoys time with her husband, her pet rabbits and cats, and her extensive houseplant collection. In the summer she gardens outdoors between trips to the ocean. But her nights are still reserved for Cheshire. "I love the people I work with here at Cheshire," she says. "You know, the stars come out at night—the night shift is made up of stars."