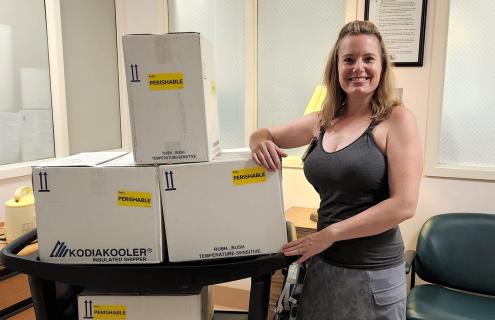 While an infant formula shortage is scary for parents unable to breastfeed exclusively, there is always a need for donated breastmilk at hospitals that care for babies. Infants in Neonatal Intensive Care Units (NICU) need healthy, accessible, and sustainable food that is easy to digest. Often these babies cannot breastfeed for medical reasons or need extra milk. While a mother's own breast milk is nearly always a baby's best first food, according to the American Academy of Pediatrics, the World Health Organization, and other experts, safely pasteurized donor human milk is the next best option.
Cheshire Medical Center partners with Mothers' Milk Bank Northeast to accept donated milk from local donors, which is safely screened, processed, and distributed to the fragile babies who need it. Emily Nichols, RN, IBCLC, a lactation consultant, and Christina M. DeTurris, MSN, RN, C-EFM, nurse manager of Obstetrics and Gynecology at Cheshire, explain more about the program.
Why do people donate breastmilk to the Milk Bank?
Most often, donors received milk for their child while at Cheshire and want to give back. Since you often produce more milk with each child, those who have had two or three children already may produce more than their baby needs. Donation via the Milk Bank allows them to help babies most in need.
Bereaved parents also benefit. Suffering an infant loss is devastating, but mothers often say it supports the healing process to pump and give their milk so other babies can survive and thrive.
All milk donation is voluntary, so while screening is complimentary, mothers are not paid for breastmilk.
Why is pasteurized donated breastmilk important for babies in a NICU?
There are many reasons babies may not be able to feed, or their mom cannot yet supply enough milk. Frequently, a mom's own milk may not come in until day three—or longer for prematurely born babies. Extra donated milk will round out the nutrition for a hypoglycemic baby.
Next to their mom's milk, pasteurized breastmilk is the best nutrition a sick infant can receive. It is easier to digest than formula and impacts a baby's GI tract. Historically, the medical benefits of breastmilk are undervalued, but most parents choose donated breastmilk over formula when we offer it.
The order of priority is always to:
Have mom put the baby to breast
Mom should pump or hand express her own colostrum/milk to use a supplement
Use donor milk from the milk bank as a supplement
Use formula as a supplement.
How do you know donated breastmilk is safe?
Cheshire buys the breastmilk from Mothers' Milk Bank Northeast. The cost covers all the measures they take to ensure the milk's safety. Mothers go through a screening interview before they become registered donors. This includes a blood test that is free to the donor. There are strict protocols for donation, storage, and transport. The milk is pasteurized and triple-tested.
The Milk Bank has a good page about milk safety and screening.
How do you become a breastmilk donor?
Visit milkbankne.org/donate to learn more and fill out a pre-screening form. Don't worry too much if you take some medication or supplements regularly, it is worth filling out the form or giving them a call anyway. Read through their donor FAQ page before your 15-minute phone screening.
The process will involve your pediatrician writing a note to verify you are producing enough milk to nourish your own baby and donate excess. There is no minimum donation if you are a bereaved donor or surrogate. Once registered, Cheshire's lactation consultants will walk you through how to donate your milk here at Cheshire Medical Center in Keene, Monday through Thursday.