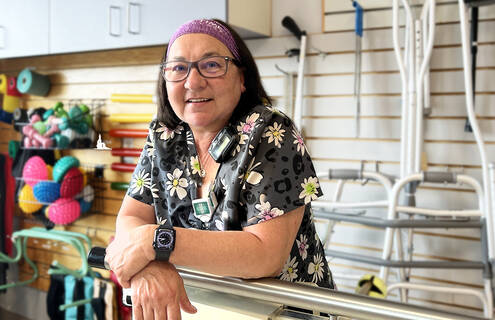 I wish I had made my decision to come here a long time ago.
Bonnie Blair, LNA
Something that brings people back to Cheshire Medical Center is the friendly environment—especially the warmth and compassion they find among doctors, nurses, and other staff members. This can also be quite a draw for qualified healthcare professionals, as has been the case with Bonnie Blair, an experienced LNA. Her close friend's care experience inspired her to apply to Cheshire, and she now works in Inpatient Rehabilitation.
"I have worked all over in healthcare and was actually beginning to dislike being in this field," says Blair, who was born and raised in nearby Charlestown. "At Cheshire, I feel the love and appreciation of being here and of making a difference. It has made me want to continue to work in the medical field and restored my faith in humanity."
An LNA for more than 30 years, Blair has worked in nursing homes during her career, such as at the VA Hospital in White River Junction, Vermont, and at Springfield Hospital. She is also a phlebotomist and worked for several years with the American Red Cross. Most recently, she was a travel LNA and phlebotomist, which brought her all over New Hampshire and Vermont but also left her less than happy with her work life. It was a personal connection that brought her back to the Monadnock Region and to Cheshire.
Blair was stationed at a hospital in Maine when she learned that her best friend back in Charlestown had been diagnosed with cancer. They had been friends since grade school and had remained close over the years, so Blair wanted to be there for her through her treatment. She knew all too well how challenging and unwelcoming it could be for patients in a health crisis to navigate a healthcare system.
"She was going through a rough time, so I fixed my days so I could be here for her," Blair says.
Blair would work three 16-hour shifts in a row, then drive the three hours from Maine to be with her friend during her chemotherapy treatments at Cheshire. She did this every week for about four months, a testament to her friendship. 
"Sometimes when she'd have her chemo early, I would drive down, make sure she got home and that she was OK, and then I would drive back," Blair says. But while her loyalty to her friend brought her repeatedly back to Cheshire, it was the outstanding quality of the hospital environment and staff that convinced her to stay.
 
"My friend kept telling me how wonderful the nurses are to her," she says. "While attending appointments, I would hear her interacting with staff, who were just amazing with her. They were all laughing, smiling, and happy, and she wasn't at all scared. They made it like a home environment for her—it was really impressive."
 
"I said to my friend, we don't get that as a traveling healthcare worker on the road. It's not always an easy path, and people aren't always so nice. These staff were nice, and they were a true team. I was blown away by the environment here at Cheshire."
Blair finally moved back to Charlestown and moved in with her friend until she could find her own place. She figured if the outstanding and compassionate care offered at Cheshire worked so well for her friend, it would work well for her too, so she applied and was hired within a month. 
"What a wonderful place to work," Blair says. "Everyone is so friendly and seems to enjoy coming to work each day. I actually get up early to come to work. I've been doing this same line of work for so long, it was like an old shoe, but now I'm really excited to learn new things." 
Blair would love to one day work in the Oncology unit that first impressed her so much, but she is happy working at Inpatient Rehab in the meantime. "I love my fellow staff here—we're a team, and we truly care."
That feeling is mutual, says Lynn Provencher, a fellow LNA and one of Blair's co-workers
"Bonnie is a great person to work with," Provencher says. "She told me how she wants to learn so much more here, and I think it is great. You need more people like that."
Blair is tickled to be back around family and old friends—including her best friend, who is "doing amazing now," Blair is happy to report. "She's a tough old bird." 
Blair is due to be a grandmother for the first time this year, so that's something else to look forward to. But the greatest reward so far has been finding a position at Cheshire that allows her to provide for patients' care in a friendly, compassionate environment.
"I wish I had made my decision to come here a long time ago," she says.
Welcome home, Bonnie!