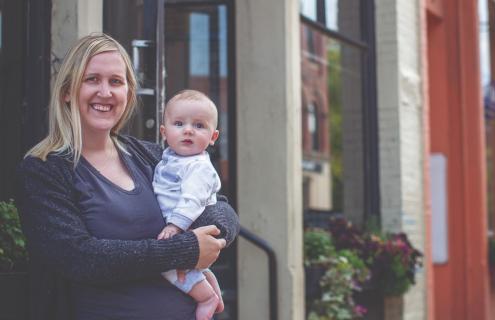 I can't sing enough praise for all of the staff. We almost forgot COVID was happening while we were there. Everyone was just awesome
Beth Wood
Beth Wood gave birth to her first child, Elliott John Wood, on April 27 at Cheshire Medical Center. The experience wasn't what she had expected. For months, she and her husband, Matt, had gone to prenatal appointments together. They'd prepared for labor, imagining that Beth's mother would be with both of them during delivery.
Then COVID-19 hit, and everything changed. 
"It was an emotional and scary time," Beth says. In mid-March, Cheshire, along with many hospitals across the country, limited the number of daily visitors to protect patients and staff from potential exposure to the virus. For Obstetrics Gynecology, and Nurse Midwifery, that meant prenatal appointments were limited to the mother only. During labor, only one support person could accompany the mother in the delivery room. 
"Elliott is our first child and my husband had been there for everything. All of sudden that was taken away," Beth remembers. "I had to go on my own."  
She also had to break the news to her mother, who is a nurse in Georgia, that she wouldn't be allowed in the delivery room. "That really threw me for a loop," Beth says. "I pictured my pregnancy and birth a certain way, and then that was gone."
But in place of what Beth and Matt had expected came a strong source of support.  "The midwives, doctors, the nurses, our pediatrician, everyone at Cheshire was phenomenal," Beth says. "They personalized everything and took the time to talk to me and helped me to not feel I was losing my mind."
Beth and her husband stayed in the hospital for five days while Elliott learned to latch and nurse. The pandemic-related restrictions meant that both parents had to physically stay on the labor and delivery floor for the duration. 
The Cheshire staff enveloped the Wood family in care the entire time. "Without them, it would have been impossible for us to stay in the hospital five days," Beth says. "But we left thinking we wanted to take all of them home with us."
Carlye Atkinson, a certified nurse midwife at Cheshire, notes that the care given to Beth Wood is not unusual, though the pandemic meant a change for everyone. "It's been really hard for us to have to tell people you can only have one person in the room with you," she says.
Everyone at Cheshire, says Atkinson, is coming through this difficult time by pulling together as a team, and as a family. Together they stay focused on taking exceptional care of the community members they serve.
"You have to be real about the challenges," Atkinson says. "But you also have to be a real person, which might include crying with them or laughing with them."
Beth remains grateful for the steady, thoughtful, expert care she and her family received.
"I can't sing enough praise for all of the staff," she says. "We almost forgot COVID was happening while we were there. Everyone was just awesome." 
To make an appointment Cheshire Medical Center's Women's Health team call 603-354-6400.
For questions related to pregnancy and COVID-19, visit Dartmouth-Hitchcock Health's COVID-19 Pregnancy And Breast Milk < https://www.dartmouth-hitchcock.org/patient-education/information-for-pregnant-patients.html  > pages.
Cheshire Medical Center's visitor and Caregiver policy changes frequency in response to COVID-19 conditions in our community. Please check our current policy prior to your visit.