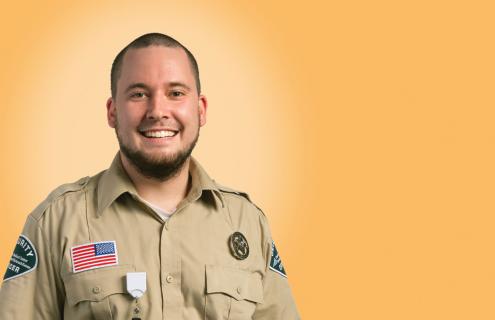 For Ben, working at Cheshire Medical Center is more than just a job, it is an opportunity to apply his skills to make the hospital community feel more secure. Ben grew up in the region, in Harrisville, and attended Keene High School, so he was always aware of Cheshire's reputation for quality care. He had also heard from friends and family that it was a positive place to work, so he was pleased to find a position there in the security department.
"The thing I like most about my job at Cheshire is knowing that I have the opportunity to make a patient's stay safer and more enjoyable, along with making the staff feel safe at work," says Ben. This is a particularly crucial role in these days of pandemics and domestic terrorist threats, not to mention that patients in a hospital environment are at their most vulnerable. "It can be a mentally difficult job at times, but the pleasures and benefits of working here outweigh any stress or tension from the job."
As a high school student, Ben worked at the Monadnock Food Co-op in Keene, a position that gave him important customer service skills and experience in the community. He then joined the U.S. Marines, where he gained valuable training as a radio operator. He feels that all of these skills, as well as the discipline that is taught in the military, have been instrumental in his success at his current role at Cheshire. But the most important skill he brings to his job is an eagerness to help patients out.
"It's all the little things that count the most," Ben says. "Anything from getting someone a drink to moving someone's car … or helping a family while they wait on concerning news from a provider." These acts of kindness have their own rewards, but Ben recently received recognition called the Circle of Gratitude award from a patient's family for his helpful attentiveness. "I had apparently made her son's stay a lot easier for him, while he was going through a tough time."
At Cheshire Medical Center, we are always looking for great people to join our diverse team, including many non-clinical positions. To learn more and view open positions, visit our careers page.