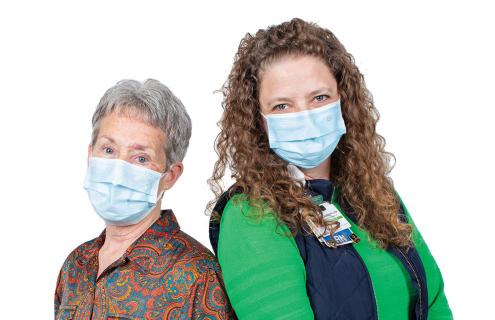 The transitional care model at Cheshire Medical Center follows each patient throughout their care continuum to prevent health complications and ensure a comprehensive and safe discharge plan. But it doesn't stop there. Cheshire is fortunate to have a small but mighty group of ambulatory care coordinators who ensure tight follow-up appointments, education, and communication for continued care management in the community, decreasing the risk of re-hospitalization.
"Ambulatory care is a vital piece of the continuum of care. We are a patient's resource once they are discharged," says Kate Dexter, BSN, RN, ACM-RN, a nurse care coordinator for Family Medicine. Kate works with patients to navigate crucial transitions and help them understand how to manage their symptoms, so they can feel their best and stay as independent as possible in their homes.
"Sometimes people don't know who to turn to once they are home, and it can be overwhelming to no longer have the hospital staff to care for them. Care coordinators provide the follow up and give patients and caregivers a lifeline to call with any questions or concerns."
Susan Szydlo, RN, another nurse care coordinator for Family Medicine says, "When I was nursing in the 1980s, a patient who had a knee replaced would stay in the hospital for up to seven days. Now they stay overnight, and are often discharged with drains, complicated wounds and incisions. They need ongoing testing, physical therapy, and other care coordination. Ambulatory care is vital in supporting a successful recovery, or supporting the ongoing management of chronic disease."
The transitional care model is a team-based approach to a patient's care, and at the core of its success are the dedicated, compassionate, and experienced care coordinators who constantly advocate for their patients. By connecting patients with services in the region, the ambulatory care coordinators daily reinforce the need for Cheshire and other local resources to work together, providing care not as a single entity but as a community.
"I absolutely love that I work for a community hospital, not a huge organization," says Susan. "It is the intimacy of a small hospital like Cheshire Medical Center, knowing my coworkers throughout the hospital, knowing my patients and the trust they place in me. That is the best part of working at Cheshire—I can make a difference." Kate adds, "Each day brings something different and it is so satisfying to know the impact we make on patients' and families' lives."
For more about nursing at Cheshire Medical Center, visit cheshiremed.org/nursing