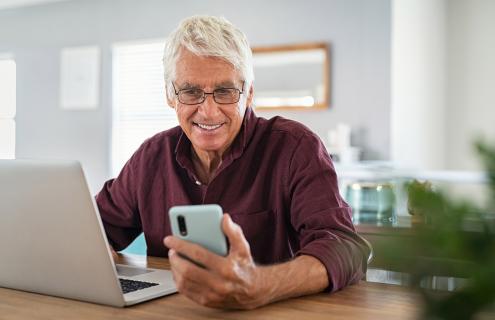 Dana Carley, patient portal concierge, provides technical support for both the browser-based version of myDH and the MyChart app on Android and iPhone. Since both have some new and improved features, we sat down with her to discover how you can get the most out of your health care with these online tools.
1. Direct appointment scheduling
You can quickly schedule some types of appointments through myDH, rather than calling your provider's office during business hours. Schedule your flu shot at an upcoming clinic, a COVID-19 test, a physical exam, or a regular office visit with your primary care provider with a few button clicks.
Select "Menu" then "Schedule an appointment." Pick the appointment type, available date and time slot, and answer any necessary questions.
Dana notes "Schedule a Visit and Request a Visit are two different processes. Some visit types can be directly scheduled, but if a type of visit or provider does not offer direct scheduling, patients can complete the request an appointment process" — or give your provider's office a call.
2. Messaging your provider directly
For simple questions that would not require an appointment or evaluation, you can message your provider or their assistants directly via the app. They respond as soon as they are able, during business hours.
Select "Menu" then "View Care Team," select the provider you want to talk to, and select "Send a Message."
3. Reading office notes after a visit
Sometimes a medical visit covers a lot of ground. "When there is a lot of information, it is nice to be able to go to the note to review," says Dana. Review the notes after every appointment and review relevant notes before each subsequent appointment. Your providers have access to the same notes, which helps you all stay on the same page.
Select "Visits" from the main dashboard to view a list of visits in chronological order. Each encounter will have an After Visit Summary you can view, and appointments will have Notes.
4. Renew medications with a few button presses
Select "Medications" from the main dashboard or menu, and you will see a list of all the prescription and over-the-counter medicines you are taking. Prescription medications that need renewals have a "Request renewal" button on their listing, or you can choose the "Request renewals" button to renew multiple medications at once.
5. Get test results as soon as they are final
"We no longer send notifications of final test results because test results are released as soon as they are final," says Dana. "Since each test may have different processing times, there could be too many notifications." Just log in and select "test results" from the main dashboard.
Dana notes "the patient may see the result before the provider, so if they are concerned about the result, they should wait for the provider to contact them and discuss what the result means for their health and care plan."
6. Proxy access to another person's record so you can help manage their health
This feature is helpful for parents or guardians and people with parents, spouses, or other relatives in poor health. Due to patient privacy laws, the process of becoming a proxy involves some paperwork.
"Many folks think they can just create their account for them and access it, but if you want to have access to another person's record, you must be authorized to do so." Dana explains, "if you are the guardian, we need guardianship papers; if you are a spouse, caregiver, friend, we need a Designation of Personal Representative form where the patient names you as an authorized person to have myDH proxy access."
Learn more in the Proxy section of myDH Frequently Asked Questions.
7. Forgot your password? Don't panic!
Select the "I forgot my password" feature on the myDH website or select the tech support link at the bottom of the sign-in page, and send an electronic message for assistance. You can also call the myDH and Televisit Support Line at 603-650-0499, where Dana and her colleagues are standing by to give immediate support.