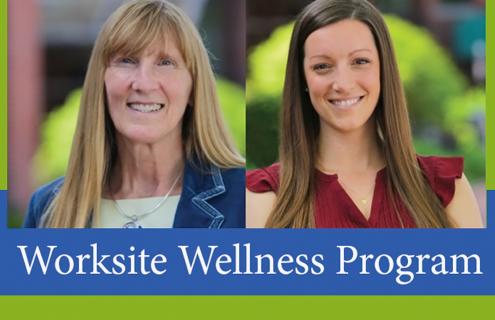 As a community partner dedicated to advancing the mission of the Healthy Monadnock initiative, Cheshire Medical Center offers resources to support the shared goals of optimal health and wellness that the initiative represents. One example of this support is the Worksite Wellness Program offered to employers in our community to assist them in evaluating and enhancing their worksite wellness efforts.
Worksite Wellness Advisors from the Center for Population Health at Cheshire Medical Center collaboratively work with organizations throughout the region, taking leaders through a four-step process, which begins with an assessment of current wellness efforts using an assessment tool based on the Centers for Disease Control worksite scorecard.
This assessment and the resulting report and recommendations focus on five areas of health and wellness: tobacco-free and family-friendly environments, physical activity, healthy eating, and building resilience.
"The report-out is my favorite part. I get to witness the discovery process that the leaders go through. I see everything from surprise that they are doing so much already to support their employees, to newfound awareness. One CEO offered maternity leave, but never thought about paternity leave. An HR Director decided to subsidize the healthy snacks in their vending machines, making those items cheaper for their employees to purchase," says Tammy Dwyer, Engagement Manager, "It's exciting to see organizations experience how simple and straightforward efforts can have a positive impact."
Organizations that commit to evaluating their wellness efforts become Organizational Champions of the Healthy Monadnock initiative and can earn Healthy Designation Badges for meeting the criteria of the five focus areas. Organization Champions also have access to an array of resources from the Worksite Wellness Program-including policy development, communication strategy, environmental changes, and employee engagement.