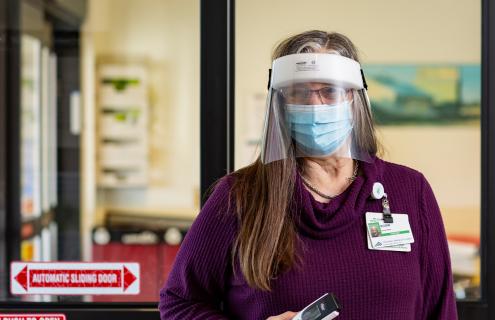 It's all hands on deck at Cheshire Medical Center, where staff members are being called to go above and beyond their normal day-to-day duties. But they don't mind, as this is what it means to serve the health and safety of the Monadnock Region.
"I used to work Monday through Friday," says Robin Topper, normally a float receptionist, "bouncing around to different offices where coverage was needed."
But since mid-March, Topper and other Cheshire Medical Center employees have been working odd hours and stepping out of their familiar roles to make sure all people coming into the hospital are safe.
Screening at the door
For Topper, that means screening and distributing masks to everyone who comes to the hospital's Emergency Department (ED). She works from 11 pm to 7 am.
"Every person coming into the medical center, staff included, is screened before entering," she says. All the screeners are decked head-to-toe in personal protective equipment. It may be hard to tell behind the masks, but Topper and the other screeners are happy to see and help you.
Screeners like Topper meet visitors outside the door, asking about the reason for your visit, and if you have experienced any symptoms that could be related to the novel coronavirus. Then they take your temperature with a no-touch thermometer. If the information gathered suggests you may have an infection, the screener calls the charge nurse, who brings you to a separate ED entrance.
Keeping the Emergency Department open and safe
Topper has noticed that visits to Cheshire's ED are down. She emphasizes that anyone in a genuine emergency should know it is safe to come to the medical center.
"People are scared," says Topper. "But we want everyone to know that we are doing our very best to keep anyone who may have COVID-19 away from the general public."
At the ED, the separate entrance for any patients suspected of coronavirus infection means they are not in the waiting room with other patients. Once inside, there is also a separate care area just for those who may have COVID-19.
Helping comes naturally
"We have a really good group and we are working well together," says Topper, who has been a receptionist at the medical center for nearly five years. Topper says she was happy to take on a new role in response to the coronavirus. Chipping in is part of her nature.
I jumped in with both feet," she says. "Whatever is needed, I am ready to do. This is the way I was raised, and this is what is needed right now to keep our community safe.

Robin Topper
Topper says she is proud to be part of a community hospital where every employee understands the importance of being flexible in response to an emergency. "Hopefully, the public at large knows that we are here for them if they need us," says Topper.
Building community with a shared mission
Topper notes that one of the silver linings to the crisis is getting to know coworkers she knew only distantly before.
"It is really neat to get to know these folks, people I wouldn't normally work with," she says. "It's a good feeling working here right now. But once we get back to whatever the new normal is, it will be great seeing my coworkers in the hall and being able to just stop and talk."
When that day comes, Topper is confident that one thing won't change at the hospital: "Every day we practice kindness and patience, whether that's with patients or fellow staff members."
Topper adds "and we appreciate what the community is doing to help us to flatten the curve. We are all in this together—we all have new roles to take on to keep each other safe."
If you are experiencing a medical emergency, calling 911 will get you the fastest pre-hospital care, whether or not you have COVID-19. Our staff ask that if you think you may have COVID-19 and plan to arrive at the ED by any means other than via ambulance, please call the ED first at (603) 354-6600.
If you think you may have COVID-19 and your medical problem is urgent but not life-threatening, so you choose Cheshire's Walk-In Care Clinic for treatment, please call them at (603) 354-5484 before you arrive.
Calling ahead helps us provide you the appropriate high-quality care you need, as quickly as possible.