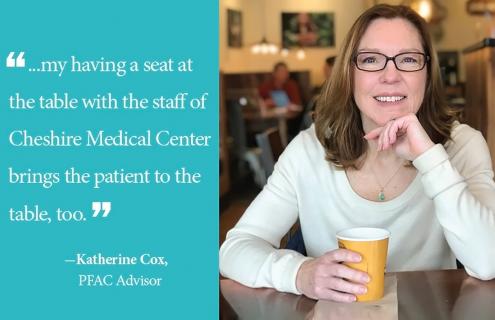 Cheshire Medical Center believes that understanding patient and caregiver perspectives is key to achieving desired results for all involved: patients and their families, staff, providers, and the community. Our Patient and Family Advisory Council (PFAC) helps us strengthen the partnerships we have with our patients and the communities we serve as we continue to improve our efforts to provide high value care, close to home, with compassion for every patient every time.
What is a Patient and Family Advisory Council?
"Our PFAC is a group of dedicated patients and patient family members who partner with staff and physicians to promote the best health care for the community," explains Dawn Welshman, PFAC Liaison at Cheshire Medical Center. 'Advisors' input helps assure that the view and perspectives of patients and their families will purposefully inform the Medical Center's decision-making. They do this by working with staff and leadership on committees and projects that help us in the planning, delivery, and evaluation of services and programs needed in our health care facilities and in our community, and by collaborating with Cheshire in the development of policies, spaces, and education materials to support our commitment to patient-centered care."
Meet one of our PFAC advisors
Katherine Cox, a freelance writer from Westmoreland, NH, shares her skills and her insights as a member of the community, volunteering on the Patient and Family Advisory Council at Cheshire Medical Center.
"I'm a strong believer in the importance of community service and the value volunteers bring to their communities," says Cox. "My family and I have been with Cheshire Medical Center for many years, and I wanted to contribute to improving communication between the medical center and its patients and families."
As a PFAC member, Cox has been involved in several projects. Most recently, she was a part of the communications team during the rollout of the Medical Center's new electronic health record system, EPIC.  The communications team was tasked with developing strategies to keep Medical Center patients and staff up to date on what the computer conversion would entail and how it would affect them.
Cox also worked with a team to create a space on the inpatient Thompson Unit for families and patients to meet during their stay. Care and support from family is an important part of a patient's healing, but privacy and space can be a challenge in the inpatient units.  "The new room is large and sunny, with a television and other amenities and welcoming furniture. It's a wonderful place for families to gather or for patients to go to, if they're able, when they want some privacy," says Cox of the project.
PFAC members range in age and background to bring a diverse perspective to healthcare at Cheshire Medical Center, and expand the voices of patients and families. They bring valuable insights, constructive advice, and feedback to improve patients' experiences with the Medical Center. Our Advisors are committed to Cheshire's mission of being a sustainable regional healthcare resource and dedicated to fostering positive relationships with our healthcare system and the community. The input from our PFAC is invaluable.
"On every project, the staff have been welcoming and interested in what I have to say," says Cox of the experience, "But even more important than my input, which is always received with interest and respect, is the fact that my having a seat at the table with the staff of Cheshire Medical Center brings the patient to the table, too."