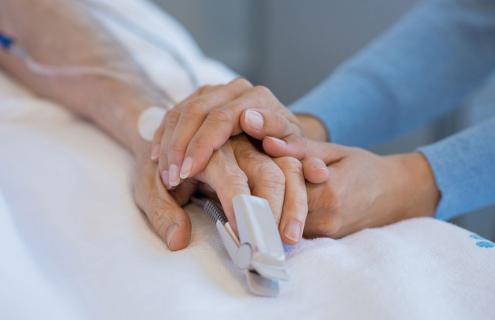 New Green Visitation Status
Cheshire Medical Center's pandemic visitor policy, which outlines procedures to manage visitor restrictions during a pandemic, is still in effect; however, we are moving closer to normal operations.
As of Monday, June 21, we are moving to Green Visitation Level status. While more open than the yellow visitation level in place since March 15, 2021, we are not yet able to return to pre-COVID normal operations so some restrictions are still in effect.
Reviewed on a weekly basis, the current change to Green Visitation Level is based on the following:
Average COVID-positive inpatients at 1.4 over the last two weeks
The county is at minimal transmissions
Rising vaccination numbers in our community
Please read the Green Visitation Level policy before accompanying or visiting a Cheshire Medical Center patient.
Infection prevention update: The state of COVID-19 and variants
We are at minimal level of community transmission here in Cheshire county as well as across the state, barring a few counties that are still showing moderate levels of transmission. The state has been averaging about 30 cases per day, and percent positivity is well below 2%. This mirrors the national picture except in a few states, where lagging vaccination numbers continue to pose a threat to our efforts in ending the COVID-19 pandemic and leading it to becoming an endemic virus.
Within New Hampshire, 61% of the total population has received one dose, while 53% are fully vaccinated. If you break it down to the 18+ age group, 72% have received one dose while 64% are fully vaccinated.
This is great, but needs to be better—especially with the rise of the "Delta" variant first detected in India in December 2020. It is already in circulation in our state and is estimated to become the dominant strain within the US by the end of June.
The Delta variant is more easily transmissible, and potentially can lead to more hospitalizations and increase the severity of illness. But the good news is that vaccines are protective against this, provided someone is 'fully vaccinated.' Hence, it is extremely important to spread the message supporting vaccinations and the fact that individuals should complete the series where two doses are required.
We know we have said this before, but the truth is, we are close to the finish line but aren't there yet. We will get there, and hopefully soon!
Thank you,
Aalok Khole, MD, infectious disease expert
Vaccines are not just about protecting yourself
The fewer unvaccinated individuals in our community, country, and the world, the less the virus can increase its spread. If we reduce the possible hosts of this virus in our community, we will be able to keep the many immunocompromised people who live here, and those who are not able to be vaccinated, safe from serious illness, lifelong health issues, and death.
Walk-in vaccination clinics
Please continue to encourage unvaccinated friends, family and neighbors to attend an upcoming walk-in vaccination clinic at 62 Maple Avenue in Keene, where they can ask questions of experienced providers to inform their decision to get the shot.
Anyone 12 or older can walk-in or make an appointment for a vaccination at vaccines.nh.gov at 62 Maple Avenue in Keene on the following dates:
Saturday June 26, 10:00 am to 1:00 pm
Saturday July 17, 10:00 am to 1:00 pm
Saturday August 7, 10:00 am to 1:00 pm
There will be a medical professional from the Greater Monadnock Public Health Network (GMPHN) available to answer questions. Pfizer and Johnson & Johnson vaccines will be available.