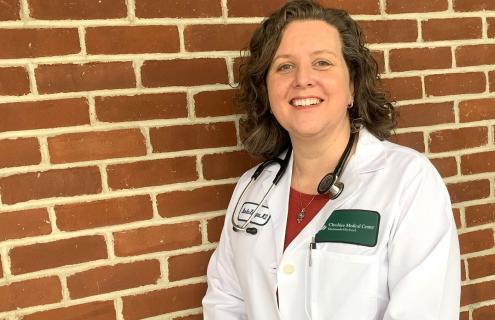 Marika Henegan, MD, serves as the medical director of Urgent Visits and Keene Ambulatory Respiratory Evaluation Service (KARES). We sat down with her to find out more about Urgent Primary Care Visits.
How has the COVID-19 pandemic affected urgent primary care services at Cheshire Medical Center?
In the setting of the current COVID-19 pandemic, we have had to redesign how we do things to ensure the safety of our patients, staff, and community. We've all seen this in every aspect of our day-to-day lives. It has affected work, school, banking, the grocery store, and our ability to spend time with family, among many other things.
Before COVID-19, a majority of our urgent visits were related to cold symptoms or respiratory complaints. Due to safety concerns, we've created an area with the necessary equipment that allows us safely to evaluate and treat patients with these types of symptoms.
Cheshire mobilized quickly last spring to make this happen, first in an outdoor tent setting, then in our indoor Keene Area Respiratory Evaluation Setting  (KARES), which is co-located at Cheshire Medical Center. Members of our Urgent Visits team staff this area.
Why are the walk-in care services moving to Cheshire Medical Center at 580 Court Street?
Urgent visits were available at the Medical Center before moving to Emerald Street in 2015. Moving them back to Court Street allows us to offer same-day appointments for patients with access to extensive health care services right on-site. It also allows our team to cover the KARES department and continue to offer Virtual Visits. As we established the KARES unit at the Medical Center in response to COVID-19, this move means we are once again covering the full scope of care in one location.
What will happen with the Emerald Street location? Will Cheshire still use it?
Currently, there are no specific plans for the Emerald Street location. It will continue to house our Ophthalmology Vision Care and Optical Shop.
How does the relocation affect Virtual Visit appointments? Does it make them more accessible?
Relocating does not affect our Virtual Visits. Cheshire continues to expand telehealth services for patients' urgent medical needs. Our staff is well situated to care for patients using this service when appropriate. We continue to see improvements in this process and are working to make this as easy as possible for patients to access.
Will you still need to call and get screened for COVID-19 and get a visit time before you arrive?
We are requesting that patients call ahead to register so that we can determine the best location and type of care for them. Screening will occur via phone. Then patients will either be able to receive care immediately or will be given a time to be seen in person that day. Depending on a patient's symptoms, they may be cared for on floor 1A of the Medical Center, at our KARES unit, or offered a virtual visit. Our number is 603-354-5484.
Anything else you'd like to add?
Our goal is to care for the urgent medical needs of our community. I have lived and practiced in Keene for 13 years now and been involved in acute care for the last seven or so. I am proud to have the opportunity to lead a great team of healthcare workers.
Our track record, demonstrated by being voted best Urgent Care Clinic annually since opening on Emerald Street, tells me that we have been providing excellent care for patients right along.
I believe our ability to flex and continue to offer the full scope of care during these challenging times—while focusing on patient safety, convenience, and easy access—speaks to that as well.
This move allows us to continue to provide such care to our community, in new and different ways, with the same commitment to quality and accessibility. We look forward to continuing this standard of care in our new setting.
Thanks for these updates, Dr. Henegan!
For more information about Urgent Primary Care Visits, visit the Walk-in/Urgent Visit FAQs.