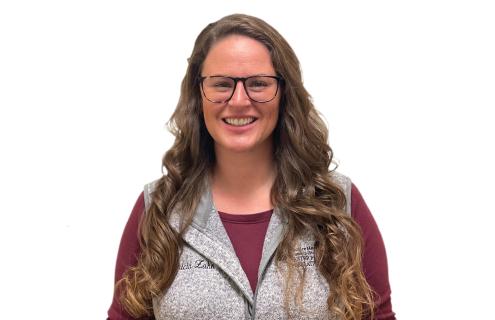 Cheshire Medical Center issued its inaugural RISE (Resolve, Integrity, Sacrifice, Exceptional Service) to the Occasion awards this year in recognition of individuals who have stepped up in an extraordinary way during a crisis or challenging period, enabling Cheshire to achieve its mission despite adversity.
Tricia Zahn, MPH, director of community strategic partnerships for the Center for Population Health at Cheshire, was recently honored with the RISE award. Tricia's collaborative work, guidance, and direction with the Greater Monadnock Public Health Network were essential in distributing COVID-19 vaccines.
"Tricia's integrity, creativity, and flexibility supported her clear and consistent focus to safely and efficiently provide vaccines to as many people as possible," says Shawn LaFrance, vice president of the Center for Population Health at Cheshire Medical Center. "Her can-do attitude and resolve were evident daily since the start of community vaccine distribution in the Monadnock Region."
"Despite uncertainties and many complex inter-organizational relationships to establish fixed (Krif Road) and flexible point-of-dispensing locations, Tricia assembled commitments, supplies, and volunteers to make vaccines available whenever we received a supply from the state," LaFrance says.
In July, Cheshire President and CEO Don Caruso, MD, MPH, presented the inaugural award to co-recipients Aalok Khole, MD, infectious diseases physician, and Mary Pierce, BSN, RN, infection preventionist. These members of the Infectious Disease department guided Cheshire, its employees, and the community through the uncharted territory and long journey of the COVID-19 pandemic from its beginning in March 2020.
"We've honored Aalok and Mary with this award to recognize their excellence—for going well above their roles in this organization," says Dr. Caruso. "Their dedication, wisdom, and guidance have been extraordinary. On behalf of the entire Senior Operations team, I want to recognize and show our gratitude for your ability to meet the needs of leadership, along with every person in this organization, all of our patients, and everyone in this community."
The RISE to the Occasion award provides an opportunity to recognize and honor the resolve, integrity, sacrifice, and exceptional service of an individual at Cheshire Medical Center who has responded in extraordinary ways during times of challenge or crisis. Going forward, the award will correspond to an event or situation that places pressure on the organization during which an employee has risen to the occasion with a level of extraordinary dedication that merits such recognition.