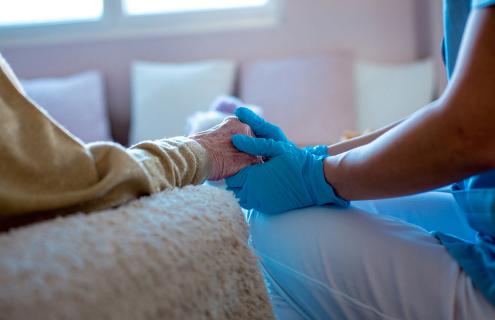 In recognition of Mental Health Awareness Month in May, the Center for Population Health at Cheshire Medical Center, a member of Dartmouth Health, will present a free webinar, Trauma and Basic Principles of Trauma-Informed Care, via Zoom on Tuesday, May 17 from 7:00 to 8:00 pm EST. Psychiatrist Christopher Mills, MD, and Susan Maydwell, PA-C, will lead the presentation and answer questions from participants.
The occurrence of trauma is widespread. This presentation aims to raise awareness about trauma and introduce the principles of trauma-informed care and current initiatives in Cheshire County surrounding trauma-informed care. 
This discussion offers individuals in our community the opportunity to assimilate information surrounding trauma and its interconnectedness to issues surrounding mental health and well-being.
Dr. Mills received his medical degree from the State University of New York and trained in psychiatry and addiction psychiatry at Dartmouth Hitchcock Medical Center (DHMC) in Lebanon, NH. He has lived in Keene since 1997. He began working at Cheshire Medical Center as an outpatient psychiatrist in June 2021. 
Maydwell received her M.S. in physician assistant studies from the Massachusetts College of Pharmacy and Health Sciences. She has been working as an advanced practice provider at Cheshire Medical Center in Keene since 2003. Susan enjoys advocating for the human condition by volunteering for various local organizations. She currently serves on the board of Cooper's Crossroad, an organization that focuses on trauma awareness and offers equine-facilitated and farm-based activities to promote health and well-being.
After registering, you will receive a confirmation email containing information about joining the meeting.
For questions or more information, contact Tricia Zahn at tzahn@cheshire-med.com.