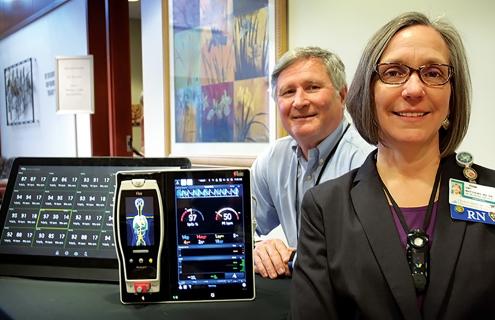 Every day at Cheshire Medical Center, we are focused on providing exceptional care for our patients, with patient safety at the forefront. For these reasons, we seek to integrate state-of-the-art technologies into patient care to achieve the best possible outcomes.
The generous support of our community through the Cheshire Health Foundation is enabling Cheshire Medical Center to add a new technology to the Medical Surgical, Progressive Care, Farnum Rehabilitation Inpatient, and the Women's and Children's Health Units-the Masimo Patient SafetyNet™ remote monitoring and clinical notification system.
"Thanks to an overwhelming response from the community and employees at Cheshire Medical Center, we have reached our goal of $225,000 to purchase the patient bedside monitoring system," said Jim Boden, Director of Annual Giving for the Cheshire Health Foundation, "We are grateful to all who gave and who have helped make this possible."
Imagine if, just as you were to experience a subtle change in your health status, a skilled medical team could see as it was happening and address it immediately. This is what Masimo provides for patients and the medical staff trusted with their care. This early detection and intervention can shorten patients' hospital stays and prevent escalation to Intensive Care.
I am grateful for the community's investment in this technology, and for the many partnerships that make quality healthcare close to home possible.

Amy Matthews, MS, RN, CNML, Senior Director of Patient Care Services at Cheshire Medical Cente
How Masimo Works
The painless Masimo sensor is placed on the patient's body, such as on a finger. The sensor continuously relays patient health information to a central monitor. From the monitoring station, nursing staff can view the vital health information of each patient in the unit. In addition to providing valuable information to the monitoring station between bedside rounds from medical staff, the system allows for alerts from bedside devices to be sent directly to the Vocera communication devices worn by nurses.
"I am grateful for the community support that will allow us to bring Masimo Patient SafteyNet™ technology to our patients and staff," says Amy Matthews, MS, RN, CNML, Senior Director of Patient Care Services at Cheshire Medical Center, "The continuous monitoring, easily accessed display of information, integration to the patient's medical record, and high alert notifications directly to nurses, does more than improve patient safety, it supports the clinical team efficiency."
Cheshire Medical Center will be the second hospital in New Hampshire to integrate this technology into patient care.  Dartmouth Hitchcock Medical Center in Lebanon, NH has been using the Masimo Patient SafetyNet™ system for the past 10 years. The nursing staff at the academic medical center speak enthusiastically about the benefits of the "extra eyes and ears" they have on patients with Masimo.
Cheshire Medical Center and Dartmouth-Hitchcock Medical Center are affiliate members of the Dartmouth-Hitchcock Health System.
As part of Dartmouth-Hitchcock's 2011 Nursing Annual Report, Nancy Karon, BSN, RN, ONC, discusses how D-H nurses helped to improve the performance of a tool that continuously monitors oxygen saturation through the use of pulse oximetry to make it safe for both the staff and patients. Watch the video below to learn more.
Cheshire Health Foundation cultivates and stewards charitable support to advance the health and wellness mission of Cheshire Medical Center. To learn more about the foundation and about the Spring 2018 Annual Fund campaign to provide patient care lifts for Cheshire Medical Center patients, visit cheshirehealthfoundation.org.