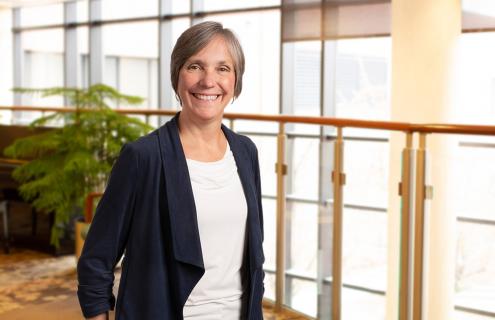 Workforce experts predict that U.S. hospitals may face increasing and significant shortages in the nursing workforce. Contributing factors include a high number of nurses leaving practice, a decrease in the number of people entering the profession, limitations in the number nursing faculty and clinical sites, and an aging American population that requires more care than ever. In a rural setting, such as Cheshire County, the nursing deficit is expected to be challenging. That's why Cheshire Medical Center's Chief Nursing Officer, Amy Matthews, is planning with a long-term vision.
"Understanding the realities of the shortage, we started talking about what it would take to have a strong workforce in Keene," says Matthews, who has been a nurse for 35 years, 20 of them at Cheshire. "We talked about how we live our mission, vision, and values with a focus on leadership development to support nurses as foundational to the success of the nursing staff."
Thanks to Joe and Stephanie Baute's generous gift, Cheshire Medical Center has been able to establish the Helen Brueckner Baute, RN, Nursing Excellence Funds. The funds allow the Medical Center to offer professional advancement opportunities that will make Cheshire an attractive place for nurses to anchor their careers.
The vision Matthews has for the program includes offering entry level educational opportunities and academic progression for RNs and LNAs to grow the clinical workforce and increase the number of baccalaureate-educated nurses. The Baute gift facilitates education and programmatic opportunities for nurse well-being, patient safety, shared decision-making, and professional development for clinical and leadership staff. These foundations allow nurses to improve practice and patient outcomes. "It's important from a recruitment and advancement perspective that nurses on campus are important partners in health care," Matthews explains.
Initially, the Baute Funds permit Matthews and the nursing staff to focus on creating a workforce development plan that is based on the best available evidence, and is meaningful to staff. It helps to meet our Medical Center's commitment to establishing a healthy workplace for all caregivers. "Having a workforce development plan allows us to build and support the nursing workforce in a way that ensures nurses are empowered to provide high-quality care," Matthews says.
Matthews, who spent the first half of her career in varied direct patient care roles, has been in her current position for two years. In addition to what she already has outlined, she hopes to expand Cheshire's onboarding residency program, raise the bar for specialty certification, and encourage nurses to participate in national fellowship programs.
"It's about meeting motivated people where they are," she says. "The Baute's gift ensures we can continue to support academic progression and education."
Learn more about paid apprenticeship opportunities for LNAs and other workforce development opportunities at Cheshire Medical Center's career page.