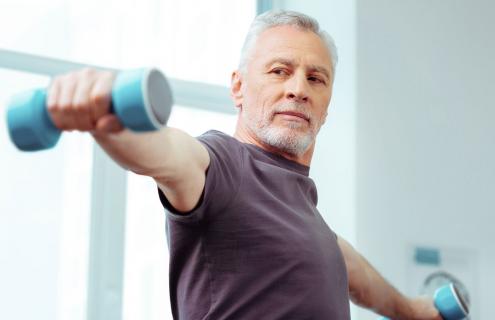 As we prepare for the gradual distribution of the COVID-19 vaccines, many want to know what actions they can take to stay healthy beyond preventing infection. When it comes to keeping your immune system strong and resilient, the key is maintaining a lifestyle that supports your health.
"Our overall health is really critical to protecting us," says Don Caruso, MD, president and CEO of Cheshire Medical Center. "We know that individuals who have chronic medical problems are much more likely to get severe disease or die from this virus, so how do we improve our immunity? It really has to do with a healthy lifestyle."
Dr. Caruso reports patients frequently ask what they can do to boost their immunity. The answer is a few of the things he's been recommending for decades: exercise, eat right, get quality sleep, wash your hands.
"It has to do with staying physically active," Dr. Caruso says.  "It has to do with eating appropriate meals. The things we really always talk about­–which are, 'What are your green vegetables and your spinach? 'Those kinds of things that are really critical."
"When we don't do them, we put ourselves at risk for things like diabetes and hypertension, which we know are comorbidities that significantly increase how poorly people do if they get this virus," Dr. Caruso says. "And so, it really is about a healthy lifestyle."
Patients sometimes ask about taking supplements aimed at boosting their immune system, rather than actions. When it comes to added vitamin C or E, Dr. Caruso says there's not much medical evidence they can actually make a significant impact on immunity. Instead, people should focus on living an active lifestyle and eating right.
Dr. Caruso says Cheshire Medical Center focuses significant resources on wellness-oriented activities and preventative measures that help community members avoid hospital time. The Health + Wellness section of CheshireMed.org is designed to help people take actions that are clinically proven to support overall health.
Here are some quick links to categories of articles filled with tips and tools to help you live a lifestyle that promotes a healthy immune response and overall resiliency: