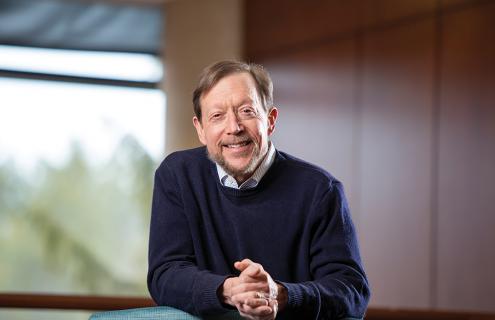 Steve Larmon came into the Cheshire Emergency Department experiencing symptoms of a heart attack—resulting in a critical response plan that involved a helicopter ride to life-saving surgery.
Steve Larmon, MD, a retired oncologist, spent the majority of his 41-year career as a cancer doctor at Cheshire. An avid runner, last March, at mile 21 during a training run, his leg muscles felt uncharacteristically weak and heavy.
He knew something was wrong, stopped running, and called his wife. She found him quickly and drove him to the Emergency Department (ED) at Cheshire Medical Center. Earlier during his run, he experienced some chest discomfort, but he brushed it off, since he didn't have any of the risk factors for heart disease and because he was in excellent shape. But on the way to the hospital, he started to feel nauseated and began to sweat—classic signs of a heart attack. That was the moment he finally realized he was having a heart attack. For whatever reason, something was blocking blood flow to his heart so it couldn't get the oxygen it needed.
Upon arrival, Cheshire's ED team checked his vital signs, performed an electrocardiogram to measure his heart activity, tested samples of his blood, and confirmed Larmon was experiencing a ST-Elevation Myocardial Infarction (STEMI). All heart attacks are serious, but a STEMI is the most dangerous of all. For a patient like Larmon who was suffering from a STEMI heart attack, immediate acute care at the Heart and Vascular Center at Dartmouth Hitchcock Medical Center (DHMC) in Lebanon is necessary.
As Larmon was wheeled through the hallway on a stretcher from Cheshire's Emergency Department to the helicopter landing pad outside, he saw the same ceiling lights that he'd walked under for decades as a physician; this time from a completely new perspective. He was in a new and vulnerable role as a patient in a dire situation.
Seeing those lights on the ceiling was very emotional.

Steve Larmon, MD
Larmon was transported by helicopter to DHMC. Within two hours, he was heading into a surgical procedure called cardiac catheterization used to diagnose and treat certain heart conditions. In Larmon's case, they performed a procedure to open blocked arteries so blood could flow to his heart. During the procedure, his heart stopped beating properly and he went into cardiac arrest.
Cardiac arrest is often fatal if appropriate steps aren't taken immediately. Larmon's doctors were able to resuscitate him with cardiopulmonary resuscitation (CPR) and defibrillation. They finished the procedure by removing a clot in one of the blood vessels surrounding his heart and by placing four cardiac stents, expandable coils made of metal mesh, which allowed blood to flow again.
"They were concerned enough about what had happened that they didn't complete the full procedure that day," said Larmon. "Instead, I went back to my recovery room, rested, and went back to the cath lab two days later when they placed another stent for a blockage in a different artery. I came home with a total of five stents."
He was discharged from DHMC with a referral to follow up with Dr. Opsahl in one week, and one week later he would start Cheshire's Cardiac Rehabilitation program, a medically supervised program designed to improve cardiovascular health after a heart attack, heart failure, angioplasty or heart surgery.
"After a cardiac event, some of our patients are nervous about even picking up laundry baskets," says Dr. Opsahl. "We don't want them to be scared to live their lives."
Cardiac rehab is a team effort that usually lasts six to eight weeks and is designed to get people to change their behaviors. That could be exercise designed specifically for their condition, eating the right food, eliminating stress in their lives and staying away from tobacco.
"Patients love the cardiac rehab program," says the Clinical Leader of Cardiology, Hillary Brown, RN, MSN. "You would think they would be happy to graduate, but they want to keep coming. This is because of the connections the doctors, therapists, nurses and patients build together."
Even though Larmon had been an avid runner before his heart attack, other lifestyle changes were necessary to avoid another one. Post heart attack, Larmon was unsure about his activity threshold. It was a whole new world that he needed to navigate. "Even when I went out to walk after the first few weeks of the heart attack I was nervous. I just didn't know what was going to happen."
He went to cardiac rehabilitation for seven weeks at the gym on Cheshire's fourth floor where he was able to test his new limits and abilities under the watchful eye of members of the cardiac team. He followed a personalized rehab plan created by nurses Jeannine Lucius, RN, and Kristi Farren, RN, along with the cardiologist. They would monitor his workouts at rehab with machines and let him know if he should slow down or if he could push harder. It reassured him to be supported by experts on his path to recovery. The people working there became a support group for Larmon.
"The medical team had done everything they could, and intellectually I knew I was ok, but the rehab experience itself really gave me the confidence I needed to be out in the real world again. The rehab staff were supportive, and all the other patients were there for the same reason—to get better. It felt like a team," said Larmon.
During the 20 exercise sessions he participated in, his resting blood pressure decreased by 20 percent, his metabolic equivalent task (METS) level (a measurement of physical activity level) increased by 51 percent.
When Larmon returned for a repeat echocardiogram, the test showed normal function of his heart. "This was significant, considering the major cardiac event-including cardiac arrest," said Dr. Opsahl. "Everyone worked hard to keep Steve alive and help him fully recover-our team in the ED, the flight medics, the cath lab team at Dartmouth, the rehab nurses, and most importantly, Steve himself."
Larmon's case illustrates the valuable collaboration between Cheshire cardiologists and their colleagues at other Dartmouth-Hitchcock Health (D-HH) system locations is for patients.
Although he never expected to be in this situation, Larmon learned an important lesson that he wants to share with others. Regardless of your fitness level and risk factor for heart disease, a heart attack can surprise anyone. Don't dismiss any signs.
"I just didn't believe it could happen to me. I was in too good of shape. If you don't have the risk factors for heart disease, but have discomfort in your chest, please still get it checked out," says Larmon. "And if you're really having heart trouble, you should probably first call an ambulance before you call your wife."
Talk with your primary care provider about your concerns and questions around your heart health. If you or a loved one experiences symptoms similar to the ones mentioned in this feature, don't hesitate to seek immediate medical attention.