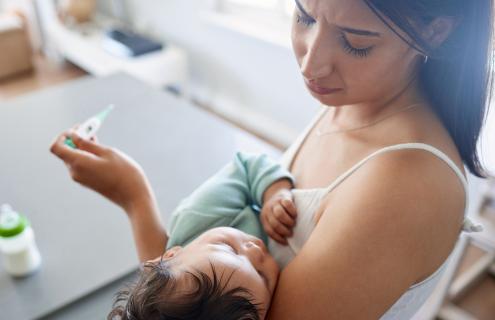 Why is everyone talking about RSV right now?
Emergency departments and pediatric inpatient units across New England are strained as seasonal respiratory illnesses are circulating stronger and earlier than usual. RSV (Respiratory Syncytial Virus) is one of these illnesses, but unlike flu and COVID-19, there is currently no vaccine against it.
"RSV is a common illness that causes cold-like symptoms," says Gina O'Brien, MD, associate chief medical officer and pediatrician at Cheshire. "It can be very mild for healthy adults but dangerous for babies and people of all ages with immune system, lung, or heart problems."
Usually, most children experience RSV before the age of 2. However, few children were exposed to it while at home and masking during the pandemic. Now, many children are catching the virus without immunity built up.
Gerri Rubin, MD, a pediatrician at Cheshire Medical Center, recently told NHPR that even some school-aged kids are getting pretty sick, which is unusual. As the virus sweeps through local communities, the surge leaves hospitals struggling to care for all patients due to additional people with severe respiratory symptoms. "We want to try to keep the hospitals open for the kids who really need to be there," she said.
Why are we concerned about RSV in the Monadnock Region?
Cheshire Medical Center has seen an early increase in RSV cases, as has surrounding medical facilities in the region. Cheshire is a regional referral center for pediatric inpatients who do not need critical care in an ICU but may need oxygen and hydration.
"We have had many admissions over the last 2 months," said Rubin, "infants, toddlers and school-age kids."
At Cheshire, our pediatric providers work closely with pediatric hospitalists and intensivists from Dartmouth Health Children's via telehealth. "We are also working with them to increase the ED's capacity to care for very ill children if there are no beds in the region," Rubin says.
Please help infants and adults with weakened immune systems stay safe from severe illness: stop the spread and know when to call your provider for help.
Who is at the highest risk for severe disease from RSV infection?
Premature infants.
Young children with congenital (from birth) heart or chronic lung disease.
Young children with compromised (weakened) immune systems due to a medical condition or medical treatment.
Children with neuromuscular disorders.
Adults with compromised immune systems.
Older adults, especially those 65 years and older.
Adults with chronic heart or lung disease.
Learn more about RSV risk from the Centers for Disease Control (CDC).
What are the symptoms of RSV?
RSV symptoms appear 4 to 6 days after infection.
The most common symptoms of RSV include runny nose, coughing, sneezing, fever, wheezing, and a decrease in appetite.
In very young infants, the only symptoms may be irritability, decreased activity, and breathing difficulties.
More serious RSV infection can result in breathing difficulty due to bronchiolitis (inflammation of the small airways in the lung) and pneumonia (infection of the lungs).
How is RSV transmitted?
People infected with RSV are usually contagious for 3 to 8 days.
RSV spreads primarily through respiratory droplets from coughing, sneezing and kissing.
RSV virus can survive for several hours on hard surfaces, including tables and crib rails—and is more commonly transmitted this way than COVID.
People infected with RSV are usually contagious for 3 to 8 days and may become contagious up to 2 days before they show signs of illness. However, some infants and people with weakened immune systems can continue to spread the virus for as long as 4 weeks after their symptoms end. Learn more about the transmissibility of RSV from CDC.
What can I do to prevent respiratory illness this fall?
Stay home when sick
"If you are sick, even with a mild cold, please stay home and use precautions such as masking and handwashing when around elderly, people with weakened immune systems or young children," says O'Brien. "The same goes for your children—please keep them home if they have respiratory virus symptoms."
Vaccinate against other respiratory illnesses
If you haven't already, make an appointment to vaccinate everyone in your family for flu and COVID-19 to reduce respiratory illness in your family and our community. Call pediatrics at 603-354-6666 to vaccinate those under 12 or make an appointment at a local pharmacy.
Keep high-risk children safe this fall
CDC recommends parents of children at high risk for developing severe RSV should help their child do the following:
Avoid close contact with sick people, even people who have recently experienced only mild cold symptoms.
Wash their hands often with soap and water for at least 20 seconds.
Avoid touching their face with unwashed hands.
Limit the time they spend in childcare centers or other potentially contagious settings during periods of high RSV activity.
Mask up in places where you might come in contact with sick people, so you don't become ill and transmit RSV to your child.
How should I care for someone with RSV?
Rubin says most children can be cared for at home and will recover well if you do the following:
Keep them well hydrated. Children with severe respiratory illness often need emergency treatment for dehydration, so keep them drinking electrolyte drinks and a steady supply of water.
Treat their fever with over-the-counter fever reducers and pain relievers, such as acetaminophen or ibuprofen*.
Clear nasal secretions with saline and bulb suction in young children. Infants' nasal passages are much smaller than older children's, so inflammation and secretions have a greater effect on their ability to breathe.
*The FDA does not recommend over-the-counter medicines for cough and cold symptoms in infants and young children as they could cause serious and potentially life-threatening side effects. Never give aspirin to children.
When should I call my child's healthcare provider at Cheshire Medical Center?
Call your child's healthcare provider if your child is:
Having difficulty breathing.
Not drinking enough fluids.
Experiencing worsening symptoms.
Pediatrics: 603-354-6666
Family Medicine 603-354-6760
Urgent Primary Care Visits: 603-354-5854
Call 911 if your child shows any of the following signs:
Struggling to breathe (flaring of nostrils, grunting sound when your child exhales, pulling in of muscles around ribs, rapid breathing).
Has decreased alertness.
Has bluish discoloration around the mouth.