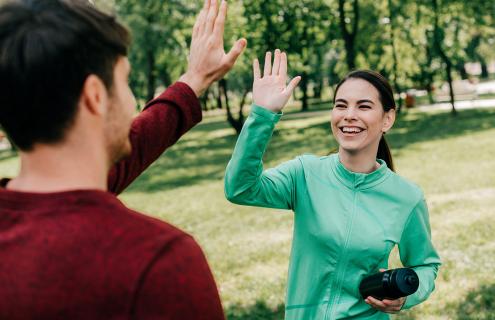 Right This Way is a ten-week, online, holistic wellness challenge designed for people looking to improve their health and well-being — and have a little fun along the way!
Throughout the summer, organizations participating in Wellpowered Worksites, a program offered through the Center for Population Health at Cheshire Medical Center, participate in this community wellness challenge. Together, we stir up some friendly competition amongst other area businesses while also improving their health and well-being.
Right This Way is a team-based program using a mobile app that integrates with over 80 fitness devices. Participants find it an easy, fun, and accessible way to improve their lives.
"Being in my forties, I now have a taste of the toll "desk work" takes on my body over time," says a participant from W.S. Badger Co. "Right this Way helped me prioritize my sleep and to keep to daily routines. I have a terrible lifelong habit of sacrificing myself first to accomplish my task lists but reversing that prioritization actually gave me the energy to tackle my task lists with greater efficiency and enthusiasm. Many thanks to the creative forces behind this initiative!"
Backed by science
Right This Way uses evidence-based behavior change techniques to form wellness habits that produce lasting results. Unlike some out-of-the-box wellness programs, Right This Way is developed with participant feedback, giving each individual the unique opportunity to help design a program that feels both authentic and effective. Goal 6, below, was introduced this year thanks to participants' feedback.
Goals to improve well-being
This year, participants' goal is to complete six daily well-being habits:
Log number of steps/minutes of exercise.
Strive for five daily produce servings
Drink six glasses of water
Avoid snacking after dinner
Initially, many sedentary employees find working more physical activity into their days daunting, but meeting a goal like 10,000 steps a day produces myriad health benefits.
"I found it really hard to walk 10K steps at first," says a Hinsdale School District employee. "But as the time went on, it became easier and easier. I lost some weight and incorporated new healthy habits into my life."
Motivation to make it a mile — and more!
Completing each well-being habit earns participants points that will tally against other Wellpowered organizations in our community. Along with bragging rights, Right This Way participants also receive fun weekly mini-challenges and giveaways to help keep them motivated.
"I enjoyed the fun and humor that would surround the conversations with each Monday's new challenge! It really brought people together," says a Bensonwood Employee.
When it comes to motivation, let's not forget the unofficial (self-appointed) mascot of Right This Way — Roamin' Penny, whose ever-present shenanigans are always a fan-favorite motivational tool!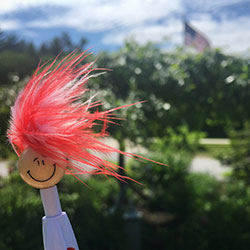 While this is not a weight-loss program, some participants lose weight as they introduce healthier habits into their lives. One Cheshire Medical Center employee explained this was the best worksite wellness program they had tried in the last ten years for that reason.
"This is the only one where I not only lost weight, but I'm able to maintain my weight loss," they said. "I found myself looking forward to this program and hope it returns next year."
Join us!
Right This Way is the must-do summer wellness challenge for all organizations in the Monadnock region! If you want to join the Summer 2021 Right This Way cohort, talk to your Human Resources or Workplace Wellness representative. If your employer does not yet participate in this program, ask them to learn more below, and give the team a call. Recruit your 2-6 person Right This Way team by May 17, 2021. Team Captains attend kick-off info sessions on May 18 or May 19, and for the May 31 through August 8, 2021 summer program.
Wellpowered Worksites, a program offered through the Center for Population Health at Cheshire Medical Center, is available to local organizations interested in improving the health and well-being of their employees. With help from a personal Wellness Advisor, organizations receive tools and resources to enhance their workplace culture.