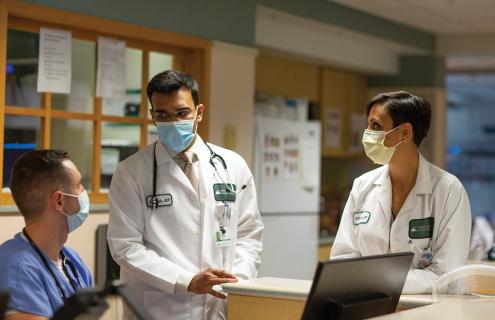 As the COVID-19 pandemic swept across the country earlier this year, hospitals were taxed in unprecedented ways. From treating COVID-positive patients, to preventing the spread of the virus in facilities and in communities, medical centers throughout the country faced unique challenges and difficult decisions—Cheshire Medical Center was no exception.
In March, Cheshire made the drastic move to temporarily curtail non-urgent care in an effort to focus on safety internally for staff and patients. To do so, nearly every process had to be reviewed in the hospital and ambulatory settings, especially around staff and patient safety.
Mary Pierce, BSN, RV, infection preventionist, and Aalok Khole, MD, infectious disease specialist, have led this incredible work. Now more than six months into the pandemic, Dr. Khole reflected on our response to COVID-19 and what might be ahead for the still-widespread virus.
"We were all battling a thousand unknowns about this virus and the disease itself," Dr. Khole says. "We were fine-tuning our response with rules, regulations, and protocols changing every day, at times even throughout the day. All in hope of preventing us, and our community, from getting overwhelmed with the disease."
"It was by no means a simple task. We could not have achieved what we did this past year had it not been for the constant, tireless efforts by all the staff here at Cheshire Medical Center, whatever the role might be."
"The community's support was equally admirable as the local population rapidly adjusted to a 'new normal' and helped keep the numbers down in this region thereby allowing us to focus on new safety procedures and caring for those in more urgent need."
Because Cheshire is the only care facility in this region, there has been a focus on supporting community entities to make sure everyone is doing what they need to do to stay safe. As schools were preparing to start again, Cheshire reached out to Keene State College, local school districts, and the city of Keene to see if help was needed to fill any knowledge gaps or answer questions those groups had as it relates to preventing the spread of the virus.
However, the virus is still a concern. As we move into autumn and winter, the respiratory virus season awaits. The potential of a "twindemic" with influenza and COVID-19 is a threat that staff at Cheshire have been planning for during the last four months.
Now is the time to be even more cautious with social distancing, hand hygiene, and universal masking. It is a critically important time for everyone, including friends and loved ones, to get the flu vaccination—this year more so than ever before. You can add a flu shot to an existing appointment, walk in to get one without an appointment at Cheshire's on-campus pharmacy, or find out if vaccines are available at a pharmacy in your community.
Cheshire Medical Center is open for all services with both in-person and Virtual Visit options. Our visitor policies and services may change in response to increased community spread of COVID-19 or influenza, as we are committed to helping this community stay healthy and safe.
For more stories about Working together during defining times, see our FY 2019-20 Annual report.