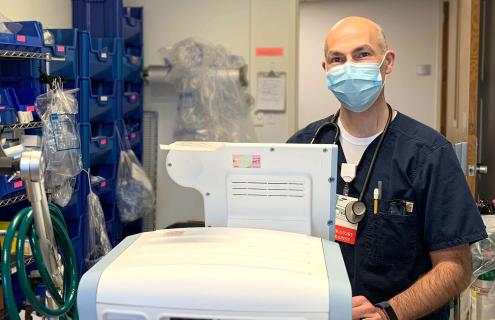 Although respiratory therapists (RT) play a vital role in healthcare, especially during this pandemic, the local news rarely mentions them. In honor of this year's National Respiratory Care Week, Daniel Liberatore, RT, shares what he and his colleagues do at Cheshire Medical Center and how the pandemic has affected the type and volume of patients they treat.
Daniel writes:
You may not have met a respiratory therapist (RT) unless you have a chronic lung condition or have needed assistance from a device to help you breathe during a procedure or as the result of an illness. Many still do not know who we are or what we do unless they have needed our care and support. Cheshire's respiratory therapy team is small but mighty.
With all the knowledge RTs possess, it's no wonder our days are so diverse. A day in the life of an RT might include:
Identifying lung and breathing disorders and recommending treatment methods.
Interviewing patients and doing chest physical exams to determine what kind of therapy is best for their condition.
Consulting with physicians to recommend a change in therapy based on your evaluation.
Analyzing blood specimens to determine levels of oxygen and other gases.
Managing ventilators and artificial airway devices for patients who can't breathe normally on their own.
Responding to a code blue or other urgent calls for care.
Educating patients and families about lung disease so they can maximize their recovery.
This week, we celebrate National Respiratory Care Week again. It's hard to believe that we're still in the thick of COVID-19, in addition to other situations it has caused — all of which keep us on our toes as RTs. For example, besides COVID, we see illnesses that are generally seasonal: spring and fall. These include influenza, RSV (respiratory syncytial virus), enterovirus, and rhinovirus. These viruses hit hard among people with chronic lung conditions.
This year we didn't see the typical spring viruses; that is, until summer! During the spring, people were wearing masks in public. As May came to a close and we saw an increase in the vaccination rate, we also saw a drop in COVID-19 cases. In turn, wearing masks in public became less common. This likely played a part in the spike of respiratory virus transmission we saw at such an unusual time of year.
This October, RTs are still very busy treating patients with COVID-19. The Delta variant seems to be "finding" people who aren't vaccinated. These people seem to become sicker quicker — and they seem younger than patients we saw during the first and second surges.
New England hospitals are at max capacity, and we're doing our share to care for people in the community, in addition to accepting patients from as far as 2-3 hours away who are unable to get care in their local communities. We've had many weeks where we've been running 6 ventilators simultaneously, which is difficult when there are only two RTs per shift assigned to cover the entire facility—including the emergency department.
This year for National Respiratory Care Week, we remain on the front line with sick patients who require large amounts of oxygen or mechanical ventilation. We hope to increase awareness of our profession among the general public and other healthcare professionals. So, thank you for learning a little more about how we care for our community."
You may recognize Daniel from 2019-2020 Annual Report or WMUR News, as his kindness and exquisite culinary skills became the focus of regional news. Watch a video about Daniel on the WMUR website.