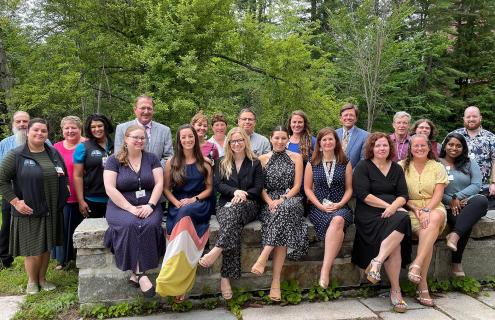 We recently sat down with Shawn LaFrance, vice president for population health at Cheshire Medical Center, to learn how his team's work embodies the best of Cheshire — through a commitment to our community, an emphasis on partnerships, and a belief in social equity.
So, what does "population health" mean, anyway?
Population health is the health status and outcomes for a whole group of people rather than one person. A population is generally defined by a geographic area—such as Cheshire County or the Monadnock region.
How did you become a leader in the Center for Population Health (CPH)?
I've worked in public health and the healthy community movement for many years in New York City and New Hampshire. I was excited to see the position posted at Cheshire because this hospital was, and still is, a national pioneer in thinking comprehensively about the health of people in the area it serves.
I was elated to get the job and move to this wonderful community—and to have the rare opportunity to improve upon an already robust initiative. Back in 1995, Cheshire had already established the Council for a Healthier Community—many years before this became normative.
This group, now called the Leadership Council for a Healthy Monadnock, includes public officials, business and education leaders, social service providers, advocates, and others who meet regularly to address population health concerns.
What does CPH do?
Our mission is to improve the health and well-being of the region by understanding the health status of the population, what influences people's health and removing barriers to well-being.
The objective is to make the healthy choice also the easy choice.
Examples of our work include:
What are some of the Center's current priorities?
Preventing the spread of COVID-19 has been a major priority since March of 2020. The planning involved in providing a vaccine for thousands of people in the region started months before the FDA approved any vaccines.
This required a significant amount of time working with a wide range of state, county, and local partners. The logistics of vaccine storage and distribution, training and managing volunteers, scheduling and providing people with their shots— it has all been enormous. A recent article explained more about the culmination of this significant community effort.
Maintaining other priorities such as the prevention and treatment of substance use disorders has continued too. The Doorway at Cheshire Medical Center has remained open, in-person, throughout the pandemic because people still seek help with opioids, alcohol, and other substance use disorders. We continue to engage in work with the Healthy Monadnock Alliance because it takes many organizations and people to improve community health.
What are some future opportunities or challenges for improving the health of our community?
We have so many opportunities to address equity issues and to reduce health disparities among people in our region. Thankfully, the overall health of people in our area is good. However, when we examine health data more closely, there are population subgroups such as people with less education or income, racial/ethnic subgroups, people with disabilities, and others who have barriers that don't exist for the majority of our population.
A focus on health equity makes it a priority that everyone has a fair and just opportunity to be healthier. Providing different people with what they actually need, not just the same thing for everyone, is how we can improve the health and well-being for all people in the region.
Learn more about the Center for Population Health or the community programs CPH offers directly to patients and community members, from school and workplace wellness initiatives to medication assistance and subsidized CSA shares.