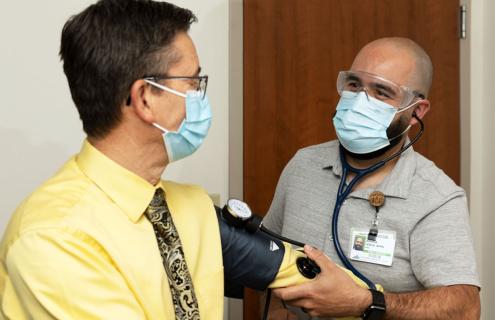 Cheshire Medical Center is well-known for providing quality, compassionate primary care. Recently, the Dartmouth Health affiliate welcomed more primary care providers (PCPs), allowing them to expand their patient-centered, team-based care to more people. Welcoming new patients from across the Monadnock Region and Southeastern Vermont ensures more of their neighbors live long, good-quality lives.
"Primary care is the keystone in our patients' care here," says Andrew Tremblay, MD, chair of the Family Medicine department and a PCP for more than 20 years. "It's our goal to have a positive impact on our local community's health and wellness. That may begin with one patient at a time, but it can spread to other family members as well."
Cheshire's Family Medicine department offers primary care to 45,000 patients in a county of 70,000 people and plans to grow 15 percent in the coming year. Many new patients may have received care from Cheshire's Specialty or Emergency Departments but do not have a PCP with Dartmouth Health.
Dr. Tremblay says having a PCP allows people to take care of health problems before they become severe. Preventative care from a provider who knows you and a health care team who work closely together can significantly improve a patient's health and well-being.
"Preventative care is the bread and butter of what we do," says Muthutantrige Cooray, MD, one of the new PCPs at Cheshire. "We try to keep patients from ending up at the hospital with more serious conditions. We also educate our patients about healthy lifestyles so that they do not succumb to chronic diseases such as diabetes."
In addition to attracting talented new providers, Cheshire took the opportunity offered by the pandemic to improve how patients receive care. For example, most PCPs now work in patient-centered partnerships (see Partners in Primary Care), embedded in a "home team" of support staff.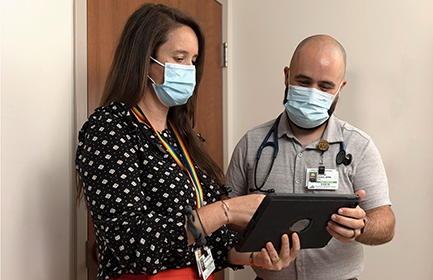 This offers people more consistent care and stronger relationships with their providers. They also receive more timely responses to myDH messages, prescription refills, appointment requests, and all the other care moments between visits.
"By far, the best part of being a PCP is the relationships we get to build with our patients," says Sharon Ferguson, DO, an experienced provider working in partnership with Laura Reyor, APRN. "We get to be involved in their entire health care picture through the years, instead of certain aspects only when people are sick. We really get to know people that way."
There's much more than the support of your provider when it comes to primary care, as other members of your health care team also help deliver holistic and accessible care.

Andrew Tremblay, MD
Beyond your PCP and associate provider, Family Medicine teams include a range of professionals working together to care for you. Collaborative care nurses support people with ways to manage chronic diseases and maintain a good quality of life. Behavioral health specialists offer short-term tools for people dealing with troubles such as substance use disorders, insomnia, or thoughts of self-harm. Phone nurses are available for consultation 24 hours a day. Nurse care coordinators manage patients' care transitions, such as going home after a hospital stay. And as part of the Dartmouth Health system, Cheshire PCPs also have seamless access to consult with highly qualified specialists across the health system on their patients' behalf.
"Our primary care patients value the consistency of care they receive, our reliability, well-educated providers, and evidence-based medicine," says Julie Cookish, an APRN and associate care provider. "There is constant communication between the leadership and providers to enhance the quality of care we give."
Care has also become more accessible for primary care patients at Cheshire. Nurses are available by phone 24 hours every day and Virtual Visits mean people can see their provider at home, using their computer or smartphone. For patients with acute symptoms or minor injuries, the Urgent Primary Care Visits team is now located in the Medical Center. The team works with PCPs and offers better access to diagnostic testing and other services. Via mydh.org or the MyChart app, patients can also self-schedule appointments, message their primary care team, read visit notes, get test results, and more.
With all of these improvements, there are so many reasons for Cheshire patients, new or existing, to be more proactive about their own health care.
"Medical concerns are usually much easier to address—and often fix—when caught early, before symptoms are even present," says Ferguson. "The work you put into taking care of yourself every day pays off in the long run."
As Ben Franklin said, an ounce of prevention is worth a pound of cure.
"I remind my patients that they are in the driver's seat. My goal is not to force people to get caught up on the screenings–it's to help them make informed decisions," says Roz Vara-Good, an APRN and associate care provider at Cheshire. "If you come in and don't have any concerns, and I don't have any concerns, then we are doing our jobs."
To learn more, visit Primary Care at Cheshire Medical Center or Choosing a New Provider to get started becoming a primary care patient with us today.