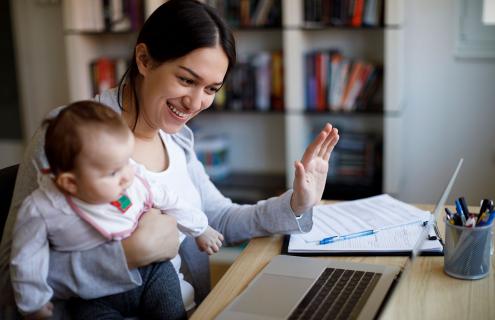 It's no secret that COVID-19 has greatly impacted our hospitals. Health care systems across the country have been forced to rethink the way they do business, both in caring for people who have or think they might have the coronavirus and other patients who are trying to get in to safely see their doctors. But not all of the changes brought on by COVID-19 have been negative. In fact, there is at least one medical practice increasingly used to see and treat patients that will likely be a standard after the pandemic is over: Virtual Visits.
Prior to COVID-19, Cheshire Medical Center was already starting to interact with patients using video conferencing and online health information through the myD-H Patient Portal. But with the heightened emphasis on physical distancing, limited travel and access to shared spaces, and the public's general unease with leaving the safety of their homes, Cheshire has used Virtual Visits to provide the same quality care in less time to more patients — and not just for primary care appointments. Specialty practices, from cardiology to endocrinology to pediatrics to the Walk-In Care Clinic, have taken advantage of the convenience of telemedicine.
I can converse with my patients, read their medical record in real time, and the visit flows. I can give them the time and access they need. They have my undivided attention, and they don't even have to come in.

Todd F. Dombrowski, MD, MS, CCD, FACP, FACR Rheumatologist, Cheshire Medical Center
"Telehealth has taken off," says Todd F. Dombrowski, MD, MS, CCD, FACP, FACR, rheumatologist at Cheshire. "Prior to COVID-19, we did not do any Virtual Visits in our department. But we're trying to get patients in to be seen with a limited number of in-person visits. This way I can converse with my patients, read their medical record in real time, and the visit flows. I can give them the time and access they need. They have my undivided attention, and they don't even have to come in." Dr. Dombrowski says that this is particularly helpful for patients who live far away from the clinic or hospital. He has patients from Nantucket to Maine to south of New York City, who can now get a referral, consultation, diagnosis, and even a prescription from the comfort of their own living room.
"Speaking to the patient and seeing them on screen, you can get about 70 percent of what you need from their medical history and a virtual physical," Dr. Dombrowski says. "You can assess a patient's problem during the limited exam, enough to order further tests, medications, and determine whether they need an in-person follow-up."
Screening patients to see if they require in-person care is a key benefit of Virtual Visits, saving time and resources for both the patients and the caregivers. It has proven especially useful for Cheshire's Walk-In Care Clinic, which now requires a phone call for a phone screening before patients arrive.
Patients can talk through their symptoms with a medical provider and determine if they need to come in. At first, these conversations happened over the phone, but now the team uses Virtual Visits in the case of rashes, lacerations, or other things that might not require urgent, hands-on attention at the clinic. It also allows some patients with possible COVID-19 symptoms to receive treatment from quarantine, while staff schedule appointments for testing.
"If the nature of the visit doesn't require an in-depth medical exam, you can get right to the point with a telemedicine visit," says Dr. Michael O'Shea, VP and medical director of Ambulatory Care Services at Cheshire. "And with the advances in technology, physicians are incorporating more and more things into the Virtual Visit. You can check a patient's blood pressure and conduct other elements of the physical exam. There are technologies that allow providers to listen to a patient's heart through the Virtual Visit. The field will continue to grow."
And as the field of telemedicine grows, Dr. O'Shea says that it will enable Cheshire to continue to grow as a regional health care provider.
By embracing this technology, Cheshire is not only helping patients get the care they need during this unprecedented pandemic, but it's also paving the way for a more convenient and efficient future of health care.
There are many advantages to Virtual Visits for patients and their families
Shortened wait times for booking appointments
Cheshire is dedicating specific appointment slots in some departments solely to Virtual Visits, which can be booked closer together because there's less downtime in between. Also, a majority of follow-up appointments with specialists can be done through Virtual Visits.
Quicker referrals
Getting to the specialist is easier, because patients don't have to wait as long to see a primary care physician and get a referral.
Less time off work or away from home for patients
With no commute to and from the hospital or clinic, not to mention a shorter appointment, patients only have to be away from work for a few minutes instead of half a workday. In fact, office workers can complete the 25-minute Virtual Visit right at their desk.
Everyone can be in communication
Adult children who want to keep up with their parents' health can patch in from anywhere in the world. Patients can also show a nurse or doctor their prescriptions to ensure everything is as ordered without having to gather and tote a bunch of pill bottles to and from the hospital.
The myD-H Patient Portal keeps patients connected
This electronic platform gives patients easy access to scheduling, after-visit summaries, billing details, and test results, as well as doctor's notes so there's complete transparency. They can now also use the portal to log in to their Virtual Visit with the click of a button.
For more information about Virtual Visits at Cheshire, call 603-354-5454, ext. 2446 or read our Virtual Visits page.