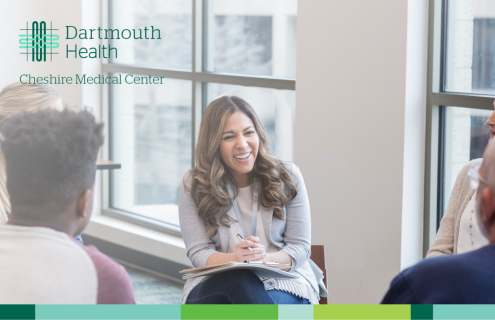 This March, the Center for Population Health at Cheshire Medical Center brings back popular topics for in-person workshops taught by a beloved surgeon, a registered dietitian, and an Alzheimer's expert.
Visit Cheshire's Community Education calendar 
"The Center for Population Health strives to improve health and well-being in our region," says Maria Lussier, community education coordinator, who chose the Spring event topics to address the particular needs of the Monadnock Region. "We hope our free classes help highlight local resources, reduce common health misconceptions, and bring the community together on important health and wellness topics."
"We're offering in-person events this Spring to help bring people together and feel the power of a connected community," says Lussier. "Connecting in person can have such a positive impact on your health and wellness." 
After all, specialized local resources and personal connections are why many of us love living in a close-knit community—and connecting with people who share your same struggles builds resilience.
Planning for a good life with memory loss
Cheshire County has the highest incidence of people over 65 living with Alzheimer's in New Hampshire, so Lussier invited Melissa Grenier, LCSW, of the Alzheimer's Association MA/NH Chapter to present two workshops at Home Healthcare, Hospice and Community Services (HCS) at 312 Marlboro Street in Keene.
"HCS is a crucial community resource for older adults and care partners, so we collaborated to offer the memory loss and Alzheimer's workshops there," says Lussier. Anyone experiencing early-stage memory loss can easily become familiar with local supports such as HCS to plan for the best quality of life.
Register for Dementia Conversations: For people experiencing early memory loss and their care partners. Tuesday, Mar. 21, 4:00 pm to 5:30 pm
Register for Living with Alzheimer's: For care partners of people with early-stage memory loss. Tuesday, Mar. 28, 4:00 pm to 5:30 pm.
Treating foot and ankle pain
Back to host one of Cheshire's most popular classes from the last few years is Serena Rose Doris Shomody, DPM, FACFAS, chair of Cheshire's Podiatry Department, and a skilled reconstructive foot and ankle surgeon. Shomody provides an entertaining presentation on everyday foot and ankle problems such as bunions, hammertoes, heel pain, flat foot, and common ankle pain. She also shares the cause, symptoms, and treatments for plantar fasciitis (or "heel spurs"). Lussier says, "if you experience foot pain, put this event on your calendar!"
Register for Be Good to Your Feet: Common Foot and Ankle Problems. Thursday, Mar. 23, 5:00 pm to 6:00 pm
How to avoid the hype and shop for healthy food
Lussier also invited Heather Ashcraft, MS, RDN, LDN, a registered dietitian with Cheshire Medical Center, to speak about navigating the supermarket for healthier shopping. Ashcraft, who recently offered tips on Eating Healthy on a Budget, will teach attendees how to see through these advertising gimmicks and avoid common food misconceptions.
"Attending this presentation will help you learn to navigate the aisles with ease, save time and money, and make healthy food choices for you and your family's needs," says Lussier.
Register for Navigating the supermarket: tips and tricks for healthier shopping. Thursday, Mar. 9, 5:00 pm to 6:00 pm