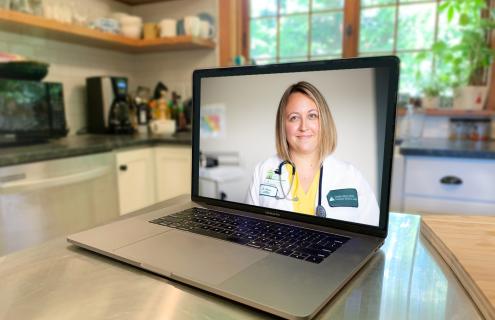 Last month, Charlie Sheaff and his wife were busy entertaining two of their young grandchildren when they noticed it was time for Charlie's doctor's appointment.
After checking in, Sheaff learned that cardiologist Todd Silberstein, DO, was ready to see him. Less than 20 minutes later, the appointment was over. Sheaff's weight and blood pressure were recorded, he received advice from Dr. Silberstein, and he was referred to another provider for additional care. The best part? Sheaff never had to leave home and his grandkids never had to stop playing.
Sheaff, 70, is one of a growing number of patients who are taking advantage of Cheshire Medical Center's emerging Virtual Visit program, often referred to in health care as telemedicine or telehealth. Though such appointments were already being offered in some cases, the COVID-19 crisis has accelerated the availability of Virtual Visits allowing a patient and provider to meet via a secure videoconferencing system instead of meeting in an office setting.
When Sheaff checked in for his Virtual Visit, he was sent to the online waiting room, where he "met" Dr. Silberstein. The appointment was accomplished using the easily downloadable Zoom app, available on iOS and Android platforms, which many people already use to connect with friends and family. The link to the appointment is available through patients' myD-H accounts.
"I was able to click the link – it worked effortlessly," says Sheaff. "I can't think of anything in terms of care that would have been different had I gone there in person."
Cheshire's main priority continues to be, as it always has been, the health and safety of patients, visitors, and staff. In-person visits are available for those who prefer to be seen in the office. In the midst of the COVID-19 crisis, Virtual Visits have expanded convenient and safe options for care. They provide a convenient way for appointments to take place face-to-face, albeit electronically.
"Patients who like [telemedicine] really like it," says Dr. Silberstein, who has seen approximately 50% of his patients virtually since the COVID crisis began. "It satisfies concerns they might have about getting exposed to viruses and works for patients who may be unable to come in person. It's a great tool to enable the continuation of care."
Though Virtual Visits offer the security and convenience of seeing one's provider from home, the staff at Cheshire understands that some patients may be gripped by technology anxiety. The Virtual Visit appointments are supported by the offices of individual providers as well as the Clinical Informatics group. Office staff are charged with guiding patients through downloading the Zoom app, turning off any browser popup blockers for the myD-H page, or emailing a link for a patient to click on when it's time for the visit.
Under the guidance of Director of Clinical Informatics Deb Chamberlain, all providers have been trained on how to use the app, and some have elected to conduct mock visits with Chamberlain's team to test that everything is in working order.
"For patients there are many benefits, such as the convenience of seeing their provider from the comfort of their own home. This is especially important for patients with mobility or transportation challenges," Chamberlain says.
To those who might have privacy concerns about technology-assisted medical visits, Chamberlain reassures that accessing Zoom via myD-H patient portal allows a HIPAA-compliant platform. That message is reaching patients, as Chamberlain reports a jump in telehealth appointments from just a few at the beginning of the pandemic to more than 3,000 by the end of May. With the goal to eventually increase that even more, meaning Virtual Visits are here to stay.
Nurse practitioner Katelyn Ahern, MSN, APRN, has found the increase in telemedicine a time-saving solution for herself and her patients. She points to a study that found most people typically spend three hours attending a 25-minute medical appointment. Ideal telemedicine visits are brief check-ins that don't necessitate a physical exam. Ahern might collect a pain scale from a patient, for example, or if the patient has an oxygen monitor, blood pressure cuff, or glucose monitor, they can report the relevant numbers. Patients can demonstrate range of motion in an ailing knee through the computer screen or discuss mental health from the comfort of their own homes.
"Telehealth can also work by asking them questions: Are you dizzy? Do you have a headache?" Ahern says. "Overall, patients go about their normal day. I've talked to people in their cars or out in their yards. Medicine is no longer limited to the doctor's office."
One patient, who has been working from home with her two young children present, spoke of the convenience of a recent visit with her provider. She did not need the offered call from the office staff to set up her telemedicine appointment, instead following e-mailed instructions to connect with her virtual visit.
"It wasn't hard," says the patient. "It was great to have the convenience of being in my own house and not having to drive there. It was technologically easy, and I can see people in the long run being more comfortable in their own homes talking about sometimes uncomfortable things."
For more information about Virtual Visits at Cheshire, visit our Outpatient Virtual Visit page or call 603-354-5454 ext. 2446.