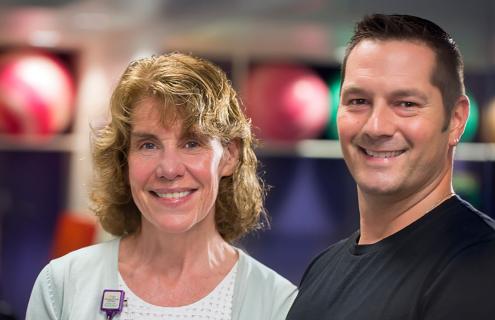 If you live or work in Keene, NH, chances are you might recognize Gary Moreau. He's worked as a driver-deliveryman for United Parcel Service (UPS) in this city for 25 years.
But when he hurt his back for the second time in two years, he began to wonder if he'd have to give up his livelihood.
"I just bent down and my back went out," he recalls. "I wasn't even lifting anything at the time."
After a few weeks of rest, Gary planned to return to work, but he was still having back pain. Then, a Workers' Compensation case manager accompanied him to a doctor's appointment and told him about something called a work hardening program. "No one at work had ever heard of it," Gary says.
Work hardening is an intensive conditioning program that incorporates physical and occupational therapy tailored to the unique requirements of an individual's job. Highly structured and goal-oriented, its aim is to get injured employees back to work healthy—and with the knowledge of how to prevent injury in the future.
When patients come into the program, we work together to design a workout that simulates their job. I love helping people like Gary…he put himself 100% into getting stronger and working smarter.

Joan Van Saun, occupational therapist at Cheshire Medical Center
Best of all, Gary learned that Cheshire Medical Center has its own well-established Work Hardening program, an outpatient rehabilitation service, giving him convenient local access from his Swanzey home.
"I had physical therapy sessions three times a week for several weeks," he relates. "The exercises would simulate my job—I'd have to lift boxes onto a shelf, then take them down, or push a weighted sleigh that simulated a dolly. I also did targeted strength-training exercises and stretching.
"It changed how I approach things at work," he continues. "I'd been doing my job for so long that I'd forgotten the right way to do things, like standing closer to what you're about to pick up, crouching instead of bending at the waist, testing the weight of a package before lifting it. Over the years you tend to get lax, and this program hammered into my head what I need to do to protect my back.
"I had been nervous about going back to work and I wasn't feeling ready," Gary admits. "So instead of just throwing myself back into work, this program made sure I was ready and gave me the confidence to go back and do my job."
Gary returned to work two months later. "What I think makes this program so valuable is that it doesn't just help you get healthy, but it gives you the knowledge to stay healthy, whether your job involves sitting, standing, driving or lifting," he says. "This gives you the tools to make it through your day without getting injured, and keeps members of our community productive and contributing.
"If I had known about it the first time I hurt my back, I probably wouldn't have injured it a second time," he adds.