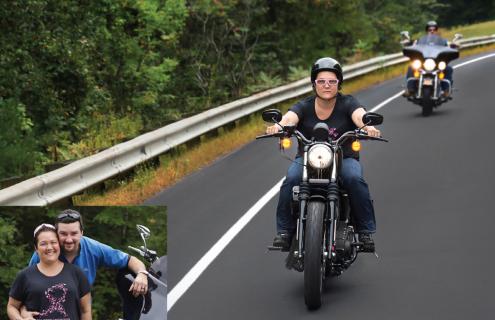 When Jina Church found a lump in her left breast in September 2015, the then-36-year-old didn't think anything of it. But a month later, it had grown larger, and she realized she should get it checked.
"I went to Women's Health and they quickly scheduled me for a mammogram, ultrasound, MRI and biopsy," she relates. "Within a couple of weeks, I found out I had two types of breast cancer."
Just days later, she met with Robert S. Pritchard, MD, MS, a board-certified, fellowship-trained medical oncologist/hematologist and the medical director at the Norris Cotton Cancer Center at Cheshire Medical Center, who would manage her care.
"The original treatment plan was for me to have a mastectomy, followed by chemotherapy," Jina says. "But Dr. Pritchard explained that studies show if you do the chemo regimen first, to shrink a tumor before surgery, the success rate is higher."
Before starting chemotherapy, Jina underwent a sentinel node biopsy in which lymph nodes are removed and tested to see if the cancer has spread beyond the initial tumor site. Fortunately, hers had not. She started the first of six scheduled chemotherapy sessions the very next day.
It wasn't easy, she admits, because the powerful drugs made her feel sick for days after treatment.
"But being able to do chemo right here in Keene, close to home, was such a relief," she says. "I'd be there for an eight-hour infusion every three weeks. My husband was able to take each of those days off and spend it at the infusion center with me."
Just prior to her sixth and final chemotherapy treatment in March, Jina landed in the hospital for five days with the flu.
"But by then, the lumps in my breast were gone—we couldn't feel them," she says. "Dr. Pritchard said that since I'd done so well, we were going to skip the sixth treatment because he wanted me as healthy as possible for surgery, which was scheduled for the end of April."
Jina presented with a particularly aggressive form of cancer. Based on her tumor type, I recommended chemotherapy prior to surgery, allowing us to use a newer drug recently approved for this specific purpose. Our experience has taught us that patients whose cancers disappear completely prior to surgery do better in the long run. It was gratifying to see that after all the challenges she faced during treatment, no residual cancer remained at the time of surgery.

Dr. Robert S. Pritchard, MD, MS Medical Director, Norris Cotton Cancer Center at Cheshire Medical Center
Due to the complexities of Jina's surgery, her mastectomy was performed at Dartmouth-Hitchcock Medical Center in Lebanon by Kari M. Rosenkranz, MD, a board-certified surgeon who completed a fellowship in breast surgery at the renowned MD Anderson Cancer Center. It was a 13-hour surgery during which Jina had a mastectomy and a reconstructive procedure in which skin and tissue were taken from her abdomen to recreate the breast. The reconstructive surgery was performed by plastic surgeon John F. Nigriny, MD.
Less than one year after her diagnosis of breast cancer, Jina and her husband Brian were back to enjoying their weekend rides on their Harley-Davidson motorcycles in Keene, New Hampshire.
Three days after she returned home from surgery, Jina got a call from the surgeon with the best news of all: Tests confirmed that she was cancer-free.
"I can't say enough about the care I've received at Norris Cotton Cancer Center," Jina says. "Dr. Pritchard, the nurses, everyone—they're amazing. Whenever I needed anything, I just called and got an immediate answer. Going through treatment was pretty awful, but the care was just awesome.
"It's like being part of a family," she adds. "They know your name here, and they really care. It's so reassuring."
Learn more about the Norris Cotton Cancer Center at Cheshire Medical Center.