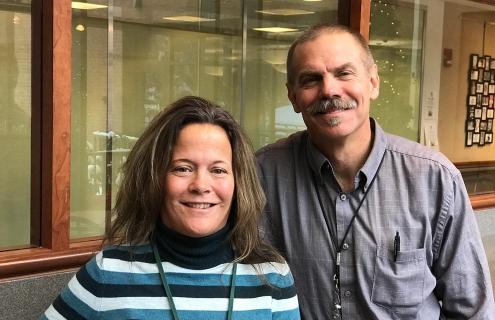 Research has revealed new understandings of the drivers of good health. The prevention of chronic diseases is closely linked to lifestyle and environment. Stress, poor nutrition, and social isolation are but a few of the challenges to wellness. Here are a few examples of ways in which physicians and providers are taking a broader view of treating patients with supports through the Center for Population Health at Cheshire Medical Center.
An unconventional "prescription" program
Cheshire Medical Center's pilot program, Prescribe for Health, serves as a bridge connecting healthcare with patients' social and environmental needs.
In addition to quality medical care, researchers define education, jobs, family stability, safety, access to healthy environments, wholesome food, and physical activity as principal components of better health.
Through the Prescribe for Health program, Cheshire physicians and providers can identify patients' areas of need and engage one of the Population Health Workers at the Medical Center. The knowledgeable and compassionate population health workers assist patients in accessing available community resources.
Integrating medical care with addressing unmet social needs means truly comprehensive care for patients.
Help leveraging options when the cost of medicine becomes a hindrance
For some patients, the cost of long-term prescription medications causes financial hardship. Cheshire's Medication Assistance Program Coordinator works in partnership with Cheshire physicians and providers, and pharmaceutical companies to help patients access the medications vital to their continued good health.
Patients referred to the program by their Cheshire healthcare provider, receive help navigating the complexities of qualifications, financial requirements, deadlines, and fulfillment times. "I work closely with the prescribing physicians," says Hayley Compos, Medication Assistance Program Coordinator.
"I research free options offered through the drug companies' assistance programs, and the prescribing physician will review with me to determine if the medication is appropriate for the patient's medical needs," says Compos. "Sometimes, the patient's condition doesn't allow for an alternative, or the patient doesn't meet the pharmaceutical company's financial guidelines."
Pharmaceutical company financial assistance programs support uninsured patients. However, many patients are underinsured and are challenged by the cost of medications. Compos will work with patients to leverage cost-reducing options to ease the financial burden.
One of the most frustrating aspects of my job is when patients can't afford medications they desperately need to maintain or improve their health. So, it's a wonderful thing when a patient qualifies for one or more medications through the Medical Assistance Program, because I know they are going to get quality medications in a consistent and timely fashion. Hayley does an awesome job making this happen.

Donald Mazanowski, MD, Family Medicine Team B, Cheshire Medical Center