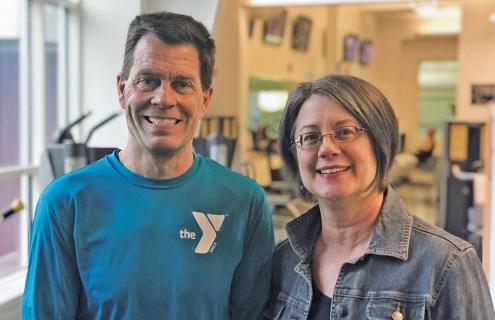 The Centers for Disease Control and Prevention (CDC) confirms that regular physical activity is one of the most important things you can do for your health. The physicians and providers at Cheshire Medical Center could not agree more.
The Center for Population Health at Cheshire is partnering with the Keene Family YMCA to increase opportunities for adults to participate in regular physical activity through Prescribe for Health, a unique program at the medical center that empowers Cheshire health care teams to connect patients with existing community-based supports that will allow them to live healthier lives.
We want you to enjoy being active and eating healthy, so we'll try various activities to see what keeps you energized and inspired to continue on. The Y is different from other gyms - it's more social and connected. People of all ages come here and find friends, neighbors and acquaintances. 

Cynthia Knipe, RDN, LD, The Keene Family YMCA
Patients of Cheshire whose health care provider has prescribed increased physical activity as a component of their health care plan are referred to Activity is Good Medicine. For a one-time fee of only $15, participants receive a three-month membership at the Keene Family YMCA which includes a personalized activity routine. At the end of the three-month period, participants are invited to continue membership at the Keene YMCA at the regular membership rate.
If you receive your health care at Cheshire Medical Center, ask your provider if the Prescribe for Health – Activity Is Good Medicine program may be right for you. A Population Health staff person will then contact and connect you with the YMCA.