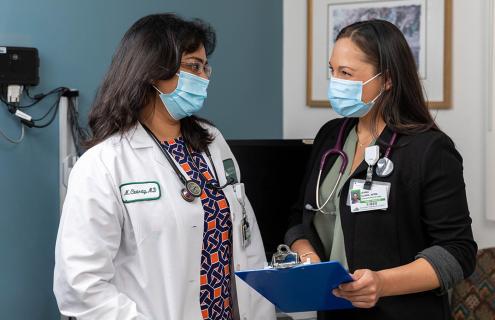 Pairing providers into two-person "teamlets" serving the same patients has lifted Cheshire Medical Center to a new level of patient-centered primary care.
In the past few years, patients' needs have grown to include phone messages, myDH messages, medication refill requests, lab results, and other care moments between office visits. Cheshire now pairs a primary care provider with an associate care provider—usually an advanced practice registered nurse (APRN)—to care for a group of patients. This team approach allows more timely responses to patients' needs, more consistent relationships, and more access to care.
Laura Reyor, APRN, an associate care provider, is paired with Sharon Ferguson, DO, sharing an office and friendship. "Our proximity allows for easy communication and prompt updates. Our partnership provides her patients additional access to a familiar, knowledgeable, and trusted member of their care team."
"Laura and I work closely together every day to come up with the best care plans for our patients," says Dr. Ferguson. "Having two people to care for a big group of patients has improved access, consistency, and continuity of care for people. If they always see either me or Laura, they feel like they know who's caring for them and know who to turn to."
Other providers echo the benefits of this approach.
"Dr. Cooray and I complement each other in many ways," says Jenna Clark, APRN, who is paired with Muthutantrige Cooray, MD. "We are passionate about healing our patients as well as providing preventative health care. We work together to achieve this goal, and it is apparent to our patients."
Roz Vara-Good, APRN—who is paired with Joshua Leduc, DNP, APRN—says being paired with someone with different strengths and perspectives helps patients get the most complete care.
"We are always bouncing ideas off of each other and reviewing labwork or treatment plans together, always with the goal of providing our patients with the best possible care," she says.
A whole team to support you
Beyond the teamlet of PCP and associate provider, a larger team of specialized support staff ensures each patient is cared for as a whole person.
"The other members of our team-based approach also bring so much to the table," says Andrew Tremblay, MD, chair of the department and a primary care provider since 2001. "The collaborative care nurses, care coordinators, behavioral health specialists, phone nurses, and the entire team working with a provider teamlet care for our patients."
Dr. Tremblay—often the driving force behind innovative changes in primary care—is deeply committed to both Cheshire's patients and his team.
"To me, the best part of working at Cheshire is the people I work with and their commitment to our patients and our community," Tremblay adds "I know that everyone on our team shows up every day to do their best to deliver the highest quality care to their patients, no matter what role they have on the team. That inspires me every day!"
To find out what's new in Primary Care, read Primary Care Takes Center Stage or visit our Primary Care page.
To become a primary care patient with Cheshire Medical Center or Winchester Family Medicine Clinic, visit Choosing a New Provider to get started becoming a primary care patient with us today.