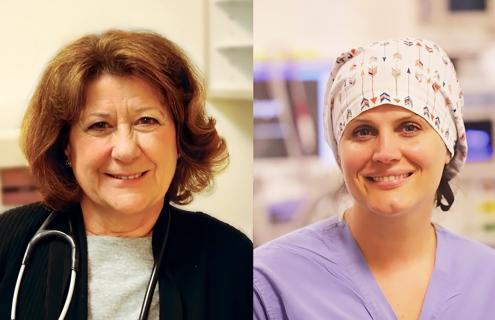 Healthcare in the U.S. has changed dramatically in the last 50 years.  Considering that nurses comprise 29% of today's healthcare workforce, the largest segment by far, it is understandable that nursing is one of the most rapidly evolving professions in healthcare. This evolution has resulted in nurses being trained to a higher level of care than ever before and acknowledged as respected healthcare professionals because of their extensive education and hands-on skills.
Yet, unless you or a loved one has spent time in a hospital or needed chronic care, you may not fully understand the breadth of expertise and knowledge that nurses bring to healthcare.
The foundation of nursing has always been respect for human dignity and an intuition for patients' needs. Today's nursing profession builds on that foundation with rigorous academic programs and specialized skills. There are a wide variety of programs, specialties, degrees, and certifications for different types of nursing.
Our nurses inspire me daily with their professionalism, expertise, and compassion, as well as their critical thinking and innovative solutions to meet the everyday challenges and demands of healthcare.

Cindi Coughlin, MS, RN Senior Vice President Patient Care Services/CNO
Nurses at Cheshire Medical Center are found in almost every department, from every aspect of patient care to specialized roles outside of patient care, and are leaders at every level of the organization. Each nurse brings specific strengths, passions, and expertise to healthcare. Their presence 24/7 is truly the lifeblood of our medical center.
To demonstrate some of the specialized skills and services that nurses bring to healthcare, we've highlighted just a few of the amazing nurses making a difference every day at Cheshire.
The right care at the right time
As the needs for access to healthcare increase, Advanced Practice Registered Nurses (APRNs) are helping to meet the demand by providing the right level of care at the right time. An APRN is a type of Registered Nurse who has earned a graduate-level degree and been specially trained in one of the four recognized APRN roles: Certified Registered Nurse Anesthetists (CRNA), Nurse Practitioners (NP), Certified Nurse Midwives (CNM), and Clinical Nurse Specialists (CNS).
APRNs across all four specialties at Cheshire Medical Center work independently or in collaboration with physicians in both clinical settings, such as primary care, and in hospital settings, such as Medical/Surgical.
APRN NP in Primary Care teams
New Hampshire is one of 23 U.S. states in which APRNs have full practice authority, allowing for nurse practitioners to evaluate patients, diagnose, order and interpret diagnostic tests, initiate and manage treatments—including prescribe medications.
Adina Hebert, APRN is a Master's-Prepared Nurse Practitioner and one of the providers at Cheshire's Walk-In Care Clinic.
"Patients receive the same advanced level of care they would at their primary care provider's office," Hebert says of the the clinic, where she performs triage, evaluates patients, goes over their medical history, does a physical exam, orders x-rays, cultures or blood work, makes a diagnosis, and creates a care plan that may include prescribing medication.
APRN CRNA in Medical/Surgical teams
As a Certified Registered Nurse Anesthetist, Latasha Heape, CRNA provides anesthesia and related care before, during, and after surgical, therapeutic, diagnostic, and obstetrical procedures.
Heape provides anesthesia to patients for all types of surgical procedures at Cheshire Medical Center. "One day I may give anesthesia to children for ear, nose, and throat procedures, and the next I may be placing an epidural for a laboring woman, or intubating a critically-ill patient in the ICU," explains Heape.
Before a procedure, Heape discusses with patients any medications they are taking and any allergies or illnesses they may have to ensure patient safety. She then administers general anesthesia to put the patient to sleep so they feel no pain during surgery, or administers a regional or local anesthesia to numb an area of the body. Heape monitors patients' vital signs and adjusts anesthesia as necessary throughout a procedure.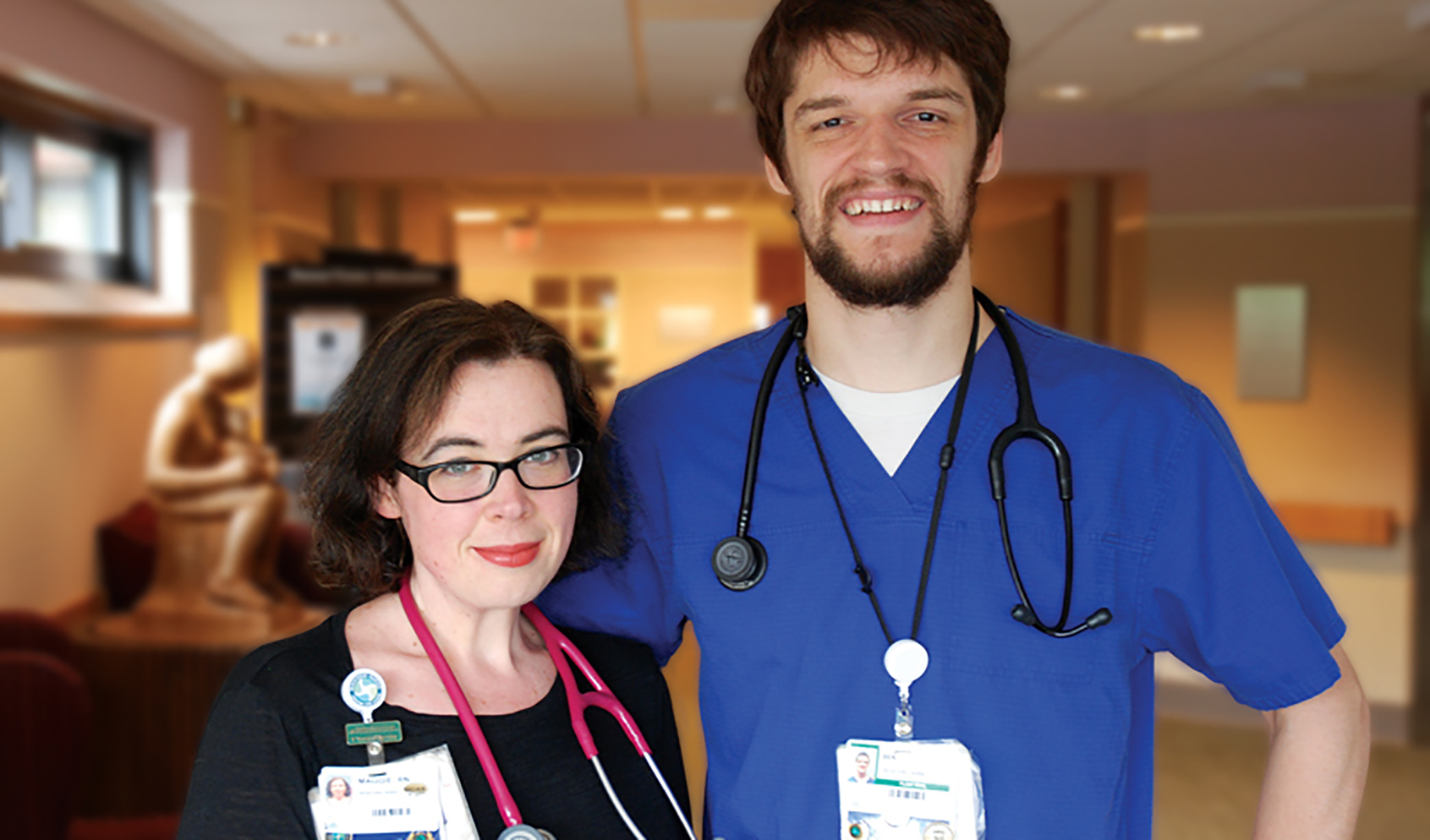 Shared governance strengthens nursing practice and patient care
Nursing Councils embrace the challenges of an ever-changing healthcare environment and enrich nursing practice. The Professional Nursing Councils at Cheshire Medical Center identify opportunities for improvement in nursing practice and ensure that nurses at every stage of their career have a voice in decisions impacting patient care and nursing practice.
At Cheshire Medical Center there are three Nursing Councils with different areas of focus: Nursing Practice Council, Quality Council, and Competency Council. The councils include nurse representatives from each patient service area and meet monthly to discuss interdepartmental practice issues that impact patient care.
Continually improving quality in nursing care
Float pool nurses like Benjamin Smith, RN move between inpatient units, including surgical, medical, and critical care, as additional staffing is required.
As the only Float Pool Nurse working the nightshift, Smith says his input on the Nurse Quality Council is particularly valuable. This Council defines and measures performance to enhance the quality and safety of patient care and includes members from clinical service areas and the inpatient areas of the medical center, as well as leadership and administration. "With all those eyes, ears, and experience, everyone can provide input and create an action plan," says Smith.
One of Smith's contributions as a council member was a proposal to update practice in the use of compression stockings for patients which was adopted by the council, "It was an opportunity to be part of the solution," explains Smith.
Ensuring consistent, high quality care
While issues and policies may be discussed in the Quality and Competency Councils, the Nursing Practice Council ensures that changes in nursing practice are carried forth across all areas of patient care—defining, promoting, and supporting evidence-based professional nursing practice.
Margaret Bard, RN is a Float Pool Nurse and co-leader of the Nursing Practice Council.
"The Practice Council consists of practicing nurses with the most frontline patient care experience having a say in how we do our jobs and promoting the professional nurse practice model," says Bard.
"The (Nursing Practice) Council is the last set of eyes before something goes live," she explains. "After a new practice or a change in practice goes into effect, members of all Nursing Councils and staff are informed."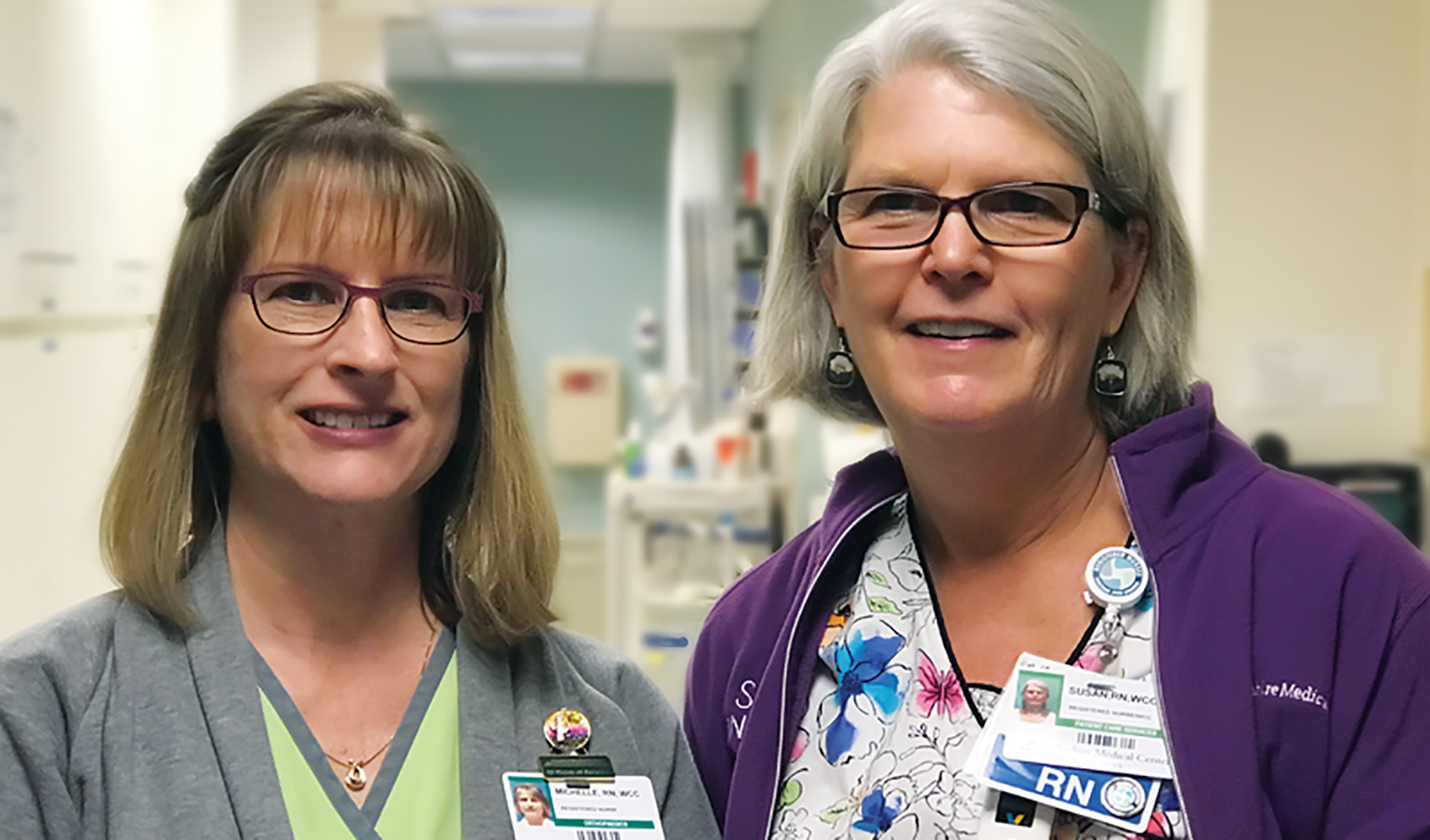 Taking an interdisciplinary approach to optimizing patient care
Wound care can be a complex and sometimes fragile process that is a crucial part of healing and rehabilitation. Nursing staff at Cheshire are taking an interdisciplinary approach to wound care to ensure every patient has the same chance for a positive outcome.
A consistent and cohesive approach
The Wound Care Committee at Cheshire, comprised of nurses from various units, guides practice and promotes a consistent and cohesive approach to care using evidence-based practice.
Certified Wound Care Nurse, Michelle Cournoyer, RN helped form the committee that gathers monthly to collectively focus on the best wound care across all areas of the patient care.
As part of a newly-created position within Podiatry, Cournoyer works collaboratively with two podiatric surgeons, and closely with home care nurses preparing wound treatment plans and conducting training.
"If a nursing home or home healthcare want specific (wound) dressings, I'll do a training at the facility," says Cournoyer.
As part of the Wound Care committee, she discusses treatments and products, always with an eye for improvement to wound care.
"We discuss what's working and what isn't." she says, "It's a very collaborative approach."
Supporting patients with a continuum of care
Susan Sperry, RN, a Certified Wound Care and Ostomy Nurse, says the collaboration of the wound care committee is invaluable in providing the best treatment.
"We learn from each other," she said. "We share patients-we can bounce things off each other."
Sperry provides bedside wound care in all units, including the Emergency Department. She works with bedside nurses to create a treatment plan for the patient, and collaborates with provider colleagues to determine appropriate medication, diagnostic tests, or bed surface needs.
Sperry also provides wound care education to bedside nurses and patients. That may mean teaching the latest treatment technology—for example, negative pressure wound therapy, which uses a vacuum dressing to promote healing in both acute and chronic wounds. She also provides preventative education to patients.
Sperry emphasizes that this approach to wound care helps patients heal with fewer complications and hospitalizations, and that providing information about disease management and prevention helps them increase strength and endurance to become more independent.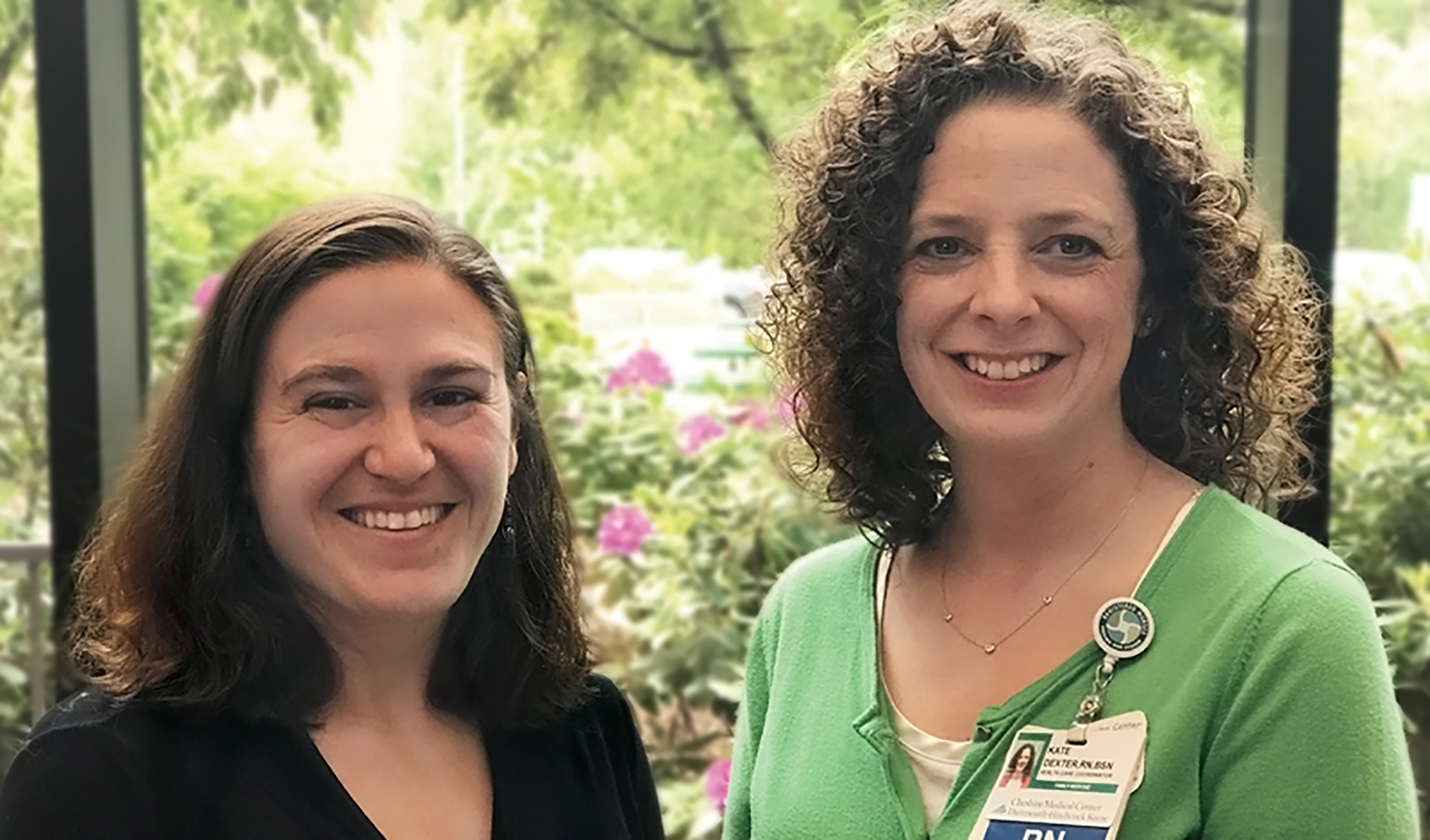 Coordinated care = better care
Care coordination means different things to different people. For patients and their families, it means the patient's needs and preferences are addressed across functions and sites. It can also include help in navigating the health care system.
For medical teams, it involves determining where to send the patient next and what patient information is necessary to transfer among health care entities. It creates a seamless transition between points of care and support, education, and communication after the patient leaves the hospital.
Two crucial nursing roles that ensure coordinated care are our Care Coordinators and Medical Home Care Coordinators.
Care Coordinator Nurses
As a Care Coordinator Nurse, Nicole Prescott, RN facilitates the discharge process and communicates the patient's follow-up needs to the primary care team. Prescott also ensures patients have all the tools they'll need to manage their health once they go home. She establishes a plan for the patient at the time of discharge and serves as the first link in the chain of communication to other departments regarding that patient's care plan.
Thinking ahead is crucial. Before filling out discharge paperwork, Prescott is laying groundwork: making follow-up appointments; scheduling lab work; calling the pharmacy to determine if a medication is available and at the lowest cost.
As a patient advocate, Prescott troubleshoots issues as they arise. She may provide education, for example, to a patient newly-diagnosed with diabetes who needs to learn how to use a glucometer to check their blood sugar or practice insulin administration. Or she may determine a patient needs a follow-up call from a social worker.
"We focus on making sure things don't fall through the cracks," says Prescott.
Medical Home Care Coordinators
Prescott partners with Kathleen Dexter, RN a Medical Home Coordinator.
"She lets us know what the patient needs—any tests, lab work, appointments, and disease or condition management information," says Dexter.
"Some patients are overwhelmed," she says, "I help make sure the care planning that Nicole did in the hospital is carried out."
Dexter works with the primary care provider and with specialists and other departments, and if a need is identified, institutions such as nursing homes and social services organizations.
"Each patient has such different needs," she points out.
Dexter carries out a patient progress assessment, which includes asking a series of questions regarding management of home care, reviewing discharge instructions, and going over medication lists. Sometimes patients need more services in home, which she'll arrange. This may mean scheduling a home healthcare nurse, medical equipment, transportation to appointments, or mental health services.
"When a patient goes home, navigating the waters can be overwhelming," says Dexter. "I've heard from families, especially caregivers, that they appreciate someone they can go to directly who knows the patient's history. Our ultimate goal as Care Coordinators is to keep people from having to go back to the hospital."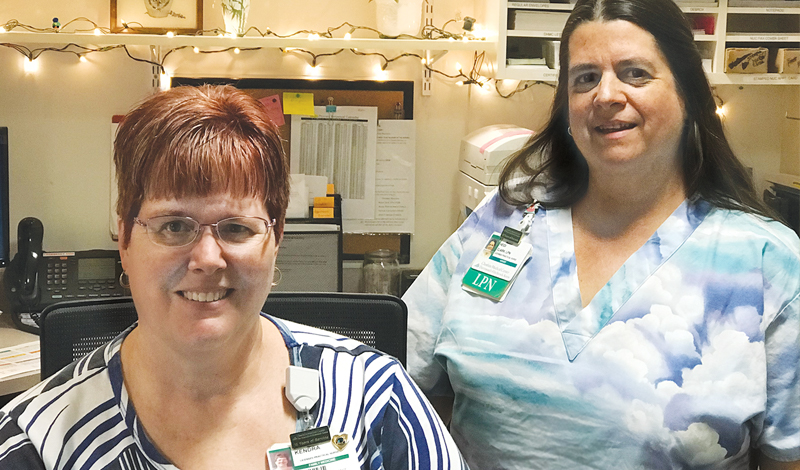 Vital support to patients and healthcare teams, from start to finish
Licensed Practical Nurses (LPN) are essential in meeting the need for nurses in healthcare. LPNs are licensed professionals whose duty is to provide routine care, assist physicians, APRNs, and RNs, and provide instructions to patients regarding medication, home-based care, and preventative lifestyle changes.
LPNs are connectors in the continuum of care, keeping accurate communication flowing between providers, specialists, surgeons, and patients. LPNs may be the first caregiver a patient sees in the exam room, providing an initial assessment and checking vital signs. The LPN role in patient care continues after appointments and procedures with essential information and support.
For our healthcare teams and patients at Cheshire Medical Center, these nurses are highly appreciated for the practical knowledge they bring to patient care.
LPN support is primary in Primary Care
It takes a team of skilled professionals to meet patients' primary care needs. LPNs serve as a key link between patients and providers, assisting patients with actions such as specialist referrals, prescription refills, and reviewing lab results.
As a Phone Triage Nurse in Primary Care, Kendra Severance, LPN helps patients who are unsure of the level of care they may need. Severance provides an initial assessment over the phone and then consults with the patient's primary care provider (PCP) or an RN on her team to confirm a care plan. She then communicates that plan with the patient and provides support for next steps, such as home care instruction or scheduling an appointment with their PCP.
Severance helps to ensure patients receive the right care, in the right place.
LPNs support our surgical patients
In busy outpatient surgical departments, LPNs ensure that surgeons and patients have the information and resources they need, from confirming appropriate diagnostic tests are completed prior to surgery, to explaining post-operative instructions or addressing home healthcare needs.
Heidi Clark, LPN is a Phone Triage Nurse in the Orthopaedics surgical care unit serving as a liaison between surgical staff, patients, and primary care teams. Clark answers basic questions such as whether it is okay to take a bath with stitches as well as more complex concerns. "Patients may leave with a large packet of information post-surgery, but they still need to know they can call and talk to someone if they have questions," says Clark.
Throughout Cheshire Medical Center, from non-clinical departments like Clinical Informatics and Quality & Patient Safety, to specialized treatment centers like the Norris Cotton Cancer Center at Kingsbury Pavilion and the Farnum Rehabilitation Center, nurses are innovating, influencing, and inspiring—every day. Find out more about all our available services.