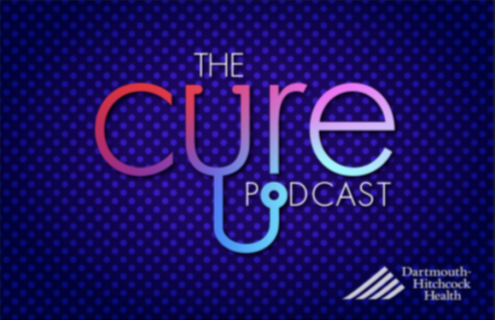 However much we would have liked this to have ended and left our lives a long time back, that's not the case.
Aalok V. Khole, MD
Nearly two years into the pandemic, it can feel at times like the only consistent thing about COVID-19 is inconsistency. The emergence of the Omicron variant at the end of 2021, surging case counts following the holiday season, and constantly changing recommendations from public health experts and government have become the norm. Keeping up with the ever changing guidelines is not only challenging for some but also confusing and frustrating given the many nuances that come with the changes.
In the most recent episode of Dartmouth-Hitchcock Health's (D-HH) "The Cure Podcast," host Jessica Swain, Dartmouth-Hitchcock senior infection specialist, was joined by Aalok V. Khole, MD, an infectious disease physician at D-HH member hospital Cheshire Medical Center, for an in-depth conversation on the current state of the pandemic. Khole offered helpful advice on navigating the Centers for Disease Control and Preventions' updated mask recommendations, and isolation and quarantine guidelines.
Listen to episode 16 of "The Cure Podcast" HERE
"However much we would have liked this to have ended and left our lives a long time back, that's not the case," Khole said. "… We're all cautiously hopeful, cautiously optimistic, however, it's going to be crucial to really closely monitor the next two to three weeks to see how this really plays out and how the down trends last, and if we can start to see a down trend in even hospitalizations and deaths."
For more information from D-HH on COVID-19, click here.
Subscribe to "The Cure" wherever you get your podcasts. Please visit "The Cure" webpage for all episodes.
About Dartmouth-Hitchcock
DARTMOUTH-HITCHCOCK HEALTH (D-HH), New Hampshire's only academic health system and the state's largest private employer, serves a population of 1.9 million across Northern New England. D-H provides access to more than 2,400 providers in almost every area of medicine, delivering care at its flagship hospital, Dartmouth-Hitchcock Medical Center (DHMC) in Lebanon, NH. DHMC was named in 2019 as the #1 hospital in New Hampshire by U.S. News & World Report, and recognized for high performance in 13 clinical specialties and procedures. Dartmouth-Hitchcock Health also includes the Norris Cotton Cancer Center, one of only 51 NCI-designated Comprehensive Cancer Centers in the nation; the Children's Hospital at Dartmouth-Hitchcock, the state's only children's hospital; affiliated member hospitals in Lebanon, Keene, and New London, NH, and Windsor, VT, and Visiting Nurse and Hospice for Vermont and New Hampshire; and 24 Dartmouth-Hitchcock clinics that provide ambulatory services across New Hampshire and Vermont. The D-H system trains nearly 400 residents and fellows annually, and performs world-class research, in partnership with the Geisel School of Medicine at Dartmouth and the White River Junction VA Medical Center in White River Junction, VT.