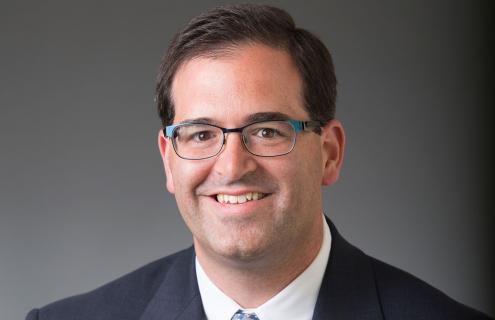 New CDC guidelines for those who are fully vaccinated
Proving there is light at the end of the COVID-19 tunnel, the Centers of Disease Control and Prevention (CDC) released new guidance on March 8th. It includes recommendations for how and when fully vaccinated individuals can visit with others indoors.
Can you finally hug your fully vaccinated grandparents in their own home? Yes! As long as you are at low risk for severe disease and not visiting at the same time as other people from households that aren't fully vaccinated.
CDC Director Rochelle P. Walensky, MD, MPH, said, "There are some activities that fully vaccinated people can begin to resume now in their own homes. Everyone—even those who are vaccinated—should continue with all mitigation strategies when in public settings. As the science evolves and more people get vaccinated, we will continue to provide more guidance to help fully vaccinated people safely resume more activities."
Michael Calderwood – New CDC recommendations, vaccines and variants
Earlier this week, Chief Quality Officer at Dartmouth-Hitchcock Medical Center, Michael S. Calderwood, MD, MPH, discussed the new guidance. This is an excerpt with from Joanne's Journal, a weekly employee message from Joanne M. Conroy, MD, CEO and President, Dartmouth-Hitchcock Health.
Can you tell us about how these new CDC recommendations affect our institutions?
Michael: First, it's important to note that these recommendations apply to non-healthcare settings. The CDC and the NH Department of Public Health Services have told us that universal masking and eye protection are still recommended in health care settings. While being vaccinated protects us from getting severe illness, none of the COVID-19 vaccines are 100 percent effective in preventing infection, so we will continue to wear masks and use eye protection until community vaccination increases and community transmission decreases. This is important to protect those around us who are not yet vaccinated, including many of our patients.
It's also important to think about the evolving guidelines as a faucet that is being turned slowly back on. There will be more discussions in the upcoming months about the de-escalation of current guidelines, sometimes referred to as an "exit strategy."
As of March 15, 2021, 22.6 percent of the population in New Hampshire (307,122 individuals) had received one dose of vaccine, and 11.2 percent (152,439) are considered fully vaccinated, according to the New Hampshire state COVID-19 Vaccination Dashboard.
At the same time, all New Hampshire counties remain at substantial levels of community transmission with approximately 268 cases per day over the most recent 7-day period according to the Overview Dashboard for New Hampshire.
We'd love for 100 percent of the population to be vaccinated, but we know that not everyone is willing to, so the target is 80 percent or higher for us to reach what's called "herd immunity." Important to note, though, is there is no specific number for herd immunity, as it depends on the reproductive number (infectivity) of the currently circulating variants of the virus and the efficacy of the vaccine against these variants—the more people that are vaccinated, the less likely that COVID-19 is to spread.
Can you provide more detail on these new recommendations?
Michael: First, the goal in releasing these new recommendations was to provide evidence-based guidance (you can learn more about the science behind this guidance here) on what you can do in your personal life, outside of work, if you are vaccinated, which include:
Fully vaccinated individuals can have indoor visits if everyone is fully vaccinated. Masks do not have to be worn, nor do you have to physically distance from one another, with a likely low risk of COVID-19 transmission. As a reminder, though, children are not yet eligible for vaccination, so they need to follow prevention practices under the guidance for unvaccinated individuals.
Unvaccinated individuals from a single household that does not have individuals at risk for severe COVID-19, can visit with fully-vaccinated people indoors without wearing masks, with a very low risk of COVID-19 transmission. The goal here is to allow parents and grandparents to visit with family once fully vaccinated. It's okay to hug someone in this situation, depending on their comfort level. You may also consider still wearing a mask, again depending on the comfort level of others. Please note that travel is still discouraged, although we expect new guidance on travel to come out soon based on where individuals are traveling from and traveling to.
If individuals or household members are at increased risk of severe COVID-19, visits should include wearing a well-fitted mask, staying at least six feet apart and visiting outdoors or in a well-ventilated space.
Unvaccinated people from multiple households have a higher risk of transmission, and everyone should take precautions, including wearing a well-fitted mask, staying at least six feet away from others and visiting outdoors in a well-ventilated space.
I have found this graphic from the CDC very helpful in illustrating the new recommendations: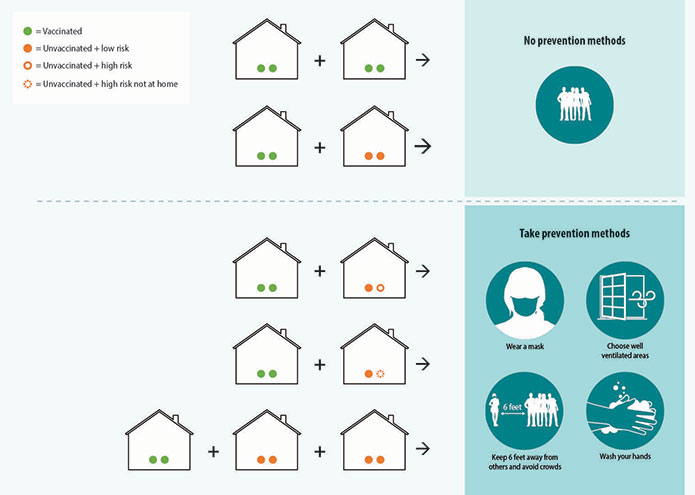 Is there a recommended number of how many people can safely gather together?
Everyone, whether they are vaccinated or not, should follow the current guidance to avoid medium or large-sized in-person gatherings and to follow any local guidance restricting the size of gatherings. If fully-vaccinated people choose to participate in a gathering, they should continue to adhere to prevention measures that reduce the spread of the virus.
Unfortunately, the CDC doesn't define what a "medium or large-sized in-person gathering" is, but instead leaves that to each state for guidance. At this time, I would recommend gatherings with 10 or fewer people.
What about other activities like indoor dining at restaurants and going to the gym?
Michael: Masks and social distancing are still recommended for indoor dining at restaurants and going to the gym. Fully vaccinated people engaging in social activities in public settings should continue to follow all guidance for these settings, including wearing a well-fitted mask, maintaining a physical distance of at least six feet, avoiding crowds, avoiding poorly ventilated spaces, covering coughs and sneezes and frequently washing hands.
There are still many questions about the three vaccines that are currently approved. Can you tell us more about them?
Michael: The three currently available are the two-dose vaccines from Pfizer and Moderna and the single-dose Johnson & Johnson vaccine. With vaccine production ramping up, the hope is that enough adults (16 years and older) may be vaccinated by July to achieve herd immunity, but this is dependent on not pulling back current mitigation strategies too soon.
For children (ages six to 16), trials are currently taking place, and if these trials provide evidence that the vaccines are safe and effective, COVID-19 vaccines could be available for children by the start of the next school year.
We've heard about the possible need for boosters? Why would that be necessary, and just how long is the vaccine effective?
Michael: There still are a lot of unknowns, including the duration of immunity to COVID-19 following vaccination. While there is some encouraging data about the development of immune memory at least out to six months, there is evidence that other respiratory virus vaccines like the influenza (flu) vaccine may lose some effectiveness starting somewhere six and nine months after vaccination. So, we're waiting on the data to see if the same thing happens with the COVID-19 vaccines, and the manufacturers are working on a booster to be ready to be administered in the fall if needed.
There's also been many reports of new variants of the virus, especially the B.1.1.7 variant (identified first in United Kingdom) and the B.1.351 variant (identified first in South Africa). Are the vaccines that are currently available able to protect against these variants?
Michael: The B.1.1.7 variant is expected to become the most commonly circulating COVID-19 virus in the U.S. this spring. The current vaccines are effective against the variants, particularly when talking about protection against severe disease. Still, the concern with some of these variants is that they are more transmissible and are spreading because folks aren't adhering to physical distancing and wearing masks prior to getting their vaccination.
For more information on COVID-19 Vaccination in the Monadnock Region, visit our Vaccination FAQ page.