On paper, it might be reasonable to assume for Owen Houghton of Jaffrey, New Hampshire and his family, that caring for his wife after her diagnosis of Alzheimer's would be a straightforward transition. After all, Houghton is a retired professor and aging wellness educator, and his eldest child, Kim, is an eldercare attorney in the state. Certainly, these two professionals knew all they needed to navigate this change in their lives and in their roles.
However, these moments do not play out on paper. They occur in places like our living rooms, at the grocery store, and at the doctor's office. Accepting these moments as signs of an uncertain future for an aging loved one is daunting—and something that most of us will eventually experience.
Houghton's daughter, Kimberly J.H. Messesheimer, Esquire, recalls discussions she had with her brothers when they first noted changes in their mother's behavior and the debate over who should be the one to talk to their father about their concerns. "My parents were very active, known members of the Jaffrey community. So to acknowledge this at first was a challenge for him, I think," recalls Messesheimer, "We would compare notes after visits [with our parents], looking for each other's perspective."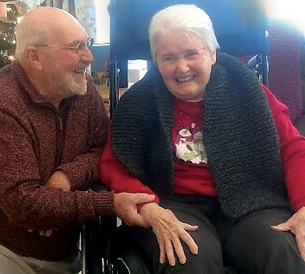 Houghton soon came to recognize his wife's changing behaviors. After doctor visits and trips to specialists at Dartmouth-Hitchcock Medical Center, in 2010, she was diagnosed with Alzheimer's and he officially embarked on his new journey as a caregiver for his wife.
Houghton and his wife, Norma, have three adult children, two sons living in Colorado and in Michigan, and their daughter, Kim, in Portsmouth, New Hampshire. Distance often makes communication a challenge, but updates to his concerned children were simplified by the journal related to Norma's health and behaviors that Houghton kept for her physicians. This journal was equally useful in recalling and sharing information with his children.
As an attorney specializing in eldercare, Messesheimer was conscious of needing to have the hard conversations and to support her parent's decisions, "A lot times kids think they know what's best for their parents, but you don't necessarily. They lived a long time before us kids. You need to find out what it is they want to see in their lives at the end, and help them get there. Part of helping them get there is making sure they've got the legal documents in place."
For many, having these conversations is uncomfortable, even upsetting. "I can't tell you how many people come into my office frightened to talk about this idea of aging and death," shares Messesheimer, "I've heard clients say 'I don't want my kids to deal with those kinds of decisions'. I wouldn't want anyone but my husband or my child to help with those decisions!"
Houghton and Norma also understood the importance of having these conversations with each other and their children. He shares this advice, "You can't put your head in the sand. To make the things happen that you need to happen, make sure you have your documentation in place so that somebody can step in and act for you. Let people know where those documents are, and talk to people about what you want the end of your life to look like."
In January of 2016, for her safety, Houghton made the difficult decision that Norma would live at Summerhill Assisted Living in Peterborough, New Hampshire. After almost fifty-six years of living together, and after caring for her daily needs for over six years, Houghton struggled with grief.
I had some hesitancy about giving up my caregiver role. Visits to my wife and her friends bring me joy to see her happiness - she is at peace, safe and secure.

Owen R. Houghton
Houghton now recognizes that this transition in her care has actually given Norma even greater quality of life. He himself enjoys being more refreshed and upbeat when he visits his wife and continues to be her advocate. Houghton recalled the statement of a friend, "You are still a caregiver—just in a different way. You've done a wonderful job and it is time to let others help you."
Caregivers, also known as informal caregivers, are unpaid individuals involved in assisting others with the activities of daily living and/or medical tasks. The U.S. Bureau of Labor Statistics reported that 41.3 million people provided unpaid eldercare during 2015-16. Almost half of these eldercare providers had children under the age of 18 while also providing care for their own parent. This population is sometimes described as the "sandwich generation" because they are in between two generations that require care. Statistics from the National Alliance for Caregiving and AARP in 2015 indicate that 34% of caregivers are 65 years of age or older. Considering the U.S. Census predicts that 20 percent of New Hampshire's residents will be 65 years or older by 2020, this is a subject we cannot ignore.
Caring for an aging loved one can be a joy, even a privilege. It can also be very hard—both physically and emotionally. Many family members providing care do so almost unseen; with friends and community unaware of the amount of time they spend as a caregiver. They find themselves managing tasks for their loved one for which they feel completely unprepared, such as healthcare decisions, legal documents, and finances.
Caregivers often set aside their own health and wellness, overwhelmed with the needs of their loved one. Physicals and healthcare appointments are put off—when early detection of illnesses could be caught at an early stage. Many adults caring for a loved one sacrifice career opportunities in order to maintain availability as a caregiver, or lose social connections. Stress and depression in caregivers is a growing health concern. So what can caregivers do to maintain their own health, sanity, and stamina? There are support resources and tools available to empower you in your role as a caregiver. See some tips on taking care of you.
Most caregiver support networks agree, start having conversations early and often. Do not wait for a crisis. Cheshire Medical Center offers free workshops to help prepare you for conversations with your loved ones and resources for establishing Advanced Care Plans. Also, see additional tips on having these conversations.
Whether you're planning ahead or in the thick of it, local and national organizations offer valuable resources and supports for caregivers. Education, self-care tips, access to support groups, and free technologies to help you manage caring for your aging loved one are all available online. In addition to the services they provide, agencies in the local listing can help connect you with the New Hampshire chapters of the national organizations for more robust support. See a listing and contact information for many of these organizations.
Making time for self-care ensures you are able to provide care for your loved one to the best of your ability. We are fortunate to live in one of the most beautiful regions on the planet. Take brief walks as often as you can and make plans to enjoy your favorite outdoor activities. Look through the program listing on the events calendar for resiliency-focused events like Mindfulness-Based Strengths Practice, Writing into Wholeheartedness, or the Resilient Living Book Group.
Your frontline of support for healthcare related questions, information, and resources is your Primary Care Provider (PCP). Your Cheshire Medical Center PCP (including Walpole and Winchester satellites) can connect you with resources to establish Advanced Care Plans, answer questions about advance directives, refer you to financial and medication assistance resources, and provide specialist referrals. Talk to your PCP if you are feeling stressed or overwhelmed. Cheshire Medical Center offers a broad range of resources to support your health and wellbeing through your primary care team. Ask your PCP about Prescribe for Health, a unique program through Cheshire's Center for Population Health that connects patients to resources in the community that can address the barriers to living healthier.
To others navigating the caregiver journey, Houghton gives these final words of advice, "Don't hide your concerns. Seek others. Support groups tend to take away the fear and the denial. The 'ah-ha' moments that come in these support groups, the 'oh, I didn't know anybody else had that problem', makes it less of a burden sometimes. Being a caregiver is a big job: let people help you."