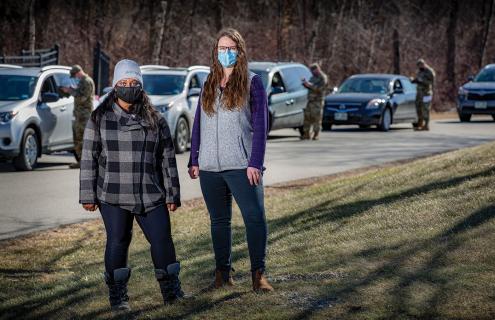 When tasked with managing the distribution of the COVID-19 vaccines to the bulk of the Monadnock Region, Tricia Zahn and Jane Parayil were up for the challenge. Through their efforts with the Greater Monadnock Public Health Network (GMPHN)—one of 13 public health networks statewide, serving Cheshire County and the 10 western-most towns in Hillsborough County—they've spearheaded the vaccine rollout of our region.
"This isn't about a plan that sits on a shelf. This is about the relationships and trust built among partners that each person, organization, or group leans into their strengths when our community needs us the most," said Zahn, MPH, director of community strategic partnerships for the Center for Population Health (CPH) at Cheshire Medical Center.
"Our COVID-19 vaccine distribution has been a culmination of all of these preparedness efforts. This is what we built relationships for; this is what we recruited, vetted, and trained volunteers for. This is what we planned for. This is what we drilled for," she says.
Zahn praises the dedication, flexibility, and hard work of Parayil, MPH, public health emergency preparedness coordinator for CPH, who joined mid-pandemic. The crucial relationships and collaborations they've built with community partners help them manage the vaccine rollout.
"We have amazing partners who are part of the National Guard, as well as both state and local partners," Zahn said. "Whenever it feels like too much, we know we have community partners to lean on and pull in to help us over the more challenging waves of this pandemic."
Some partners include Cheshire staff that have donated their time to volunteer at the state-run fixed site. That, too, has been rewarding, said volunteer Elaine Carey, RN, BS, CGRN, the clinical leader of Cheshire's Endoscopy team.
"It's groundbreaking to take on the task of vaccinating such a large population—and in traditional New England weather, at that!" Carey said. "We (as family and staff) are so grateful for the very hard work that is being done—and has been done—by Jane, Tricia, the National Guard, and the dedicated volunteers. … It has allowed us to be a part of the solution with the hope of bringing healthier and safer days back, so we can all once again gather together for celebration."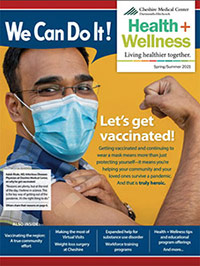 Read more, including a glimpse at the faces—and arms—of those who have chosen to get the vaccine, and why they made their decision, in our Spring/Summer 2021 issue of Health + Wellness.