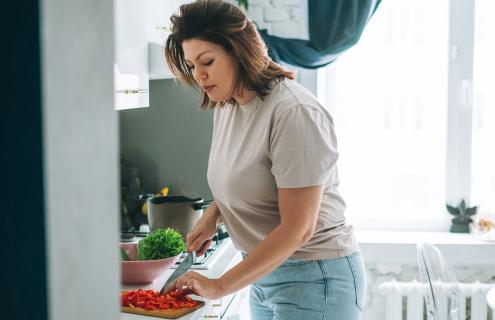 "'What am I going to make for dinner?' I hear this from my patients all the time," says Ruth Goldstein, MS, RD, Outpatient Registered Dietitian with Cheshire Medical Center. "I always encourage my patients to create a routine. Put in some work at the beginning of the week and then your day-to day-decision making will be much less."
Here are some tips from Ruth:
Set a consistent time to shop each week and shop with a list
It is much easier to plan meals for one week than for two weeks or a month. Shopping more often makes it simpler to think about the week ahead.
Set a consistent time to meal plan—before you shop
If you shop on Sunday afternoon, then set aside 30 or 45 minutes Sunday morning to think about what you want to eat for the week. Look through cookbooks, browse the web, talk to your family, and think about your own schedule. Then you can make a list. 101planners.com offers a list of free, printable menu planning templates.
Don't try to do too much
Yummy meals don't need to take long to make. Quick-and-easy favorites or freezer meals make getting food on the table much more manageable. Eating Well has fabulous lists of "Healthy 15 Minute Dinner Recipes" and "15 Minute Dinner Plan for the Week" with lots of veggies, whole grains, and different proteins to try.
Invest in a good set of small, freezable storage containers
I prefer glass, something like Pyrex or Snap Lock. Freeze individual portions of large recipes. Soups, stews, chile, and casseroles freeze well. Then you can pull them out when time is tight and energy is low.
Put a list of 3 extremely simple go-to meals on your phone or in your purse
When your mind goes blank, this list will rescue you. A few super-quick ideas include corn tortillas, canned black beans, cheese, with shredded lettuce or red cabbage; or scrambled eggs with sautéed baby spinach and whole grain toast. You can also try a "picnic plate" with sliced cheese or rotisserie chicken or canned tuna, whole grain crackers, baby carrots or cut up cucumbers, hummus or almond butter for dipping, and a cut-up apple. The options are endless.
Consider a meal delivery service
Some of my patients love meal delivery services. Green Chef and Hello Fresh are two well-reviewed services that provide recipes and pre-portioned ingredients that you assemble and cook yourself. Taste of Home offers a review "Best Meal Delivery Service for Every Lifestyle" so you can decide for yourself.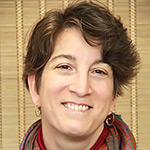 Ruth Goldstein MS, RD is part of a team of three Outpatient Registered Dietitians with Cheshire Medical Center at 149 Emerald Street in downtown Keene. To book an appointment with one of the outpatient RDs, call 603-354-5476 or visit our Nutrition Services page.