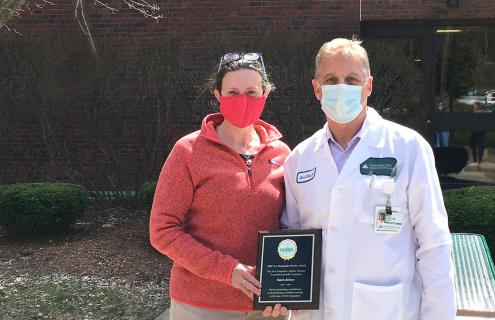 Cheshire Medical Center's Mark B. Silbey, MD, has received the 2020 New Hampshire Service Award from the New Hampshire Athletic Trainers' Association (NHATA). The award recognizes non-athletic trainers from various backgrounds who have made outstanding contributions to the profession of athletic training in New Hampshire.
"Through his leadership and advocacy for the athletic training profession, and in partnership with Dr. Cherie Holmes and Tate Erickson, ATC, Cheshire Medical Center's Orthopaedics Department has become a leader in the state of New Hampshire in the utilization of the athletic trainer in a physician's office," said Keene State College's Athletic Training Program Director Wanda Swiger, EdD, ATC, CES, NH-LAT.
"By creating a multidisciplinary health care team, the athletic trainers work side-by-side with physicians, nurses, physician assistants, and others to provide a unique but quality health care model to the residents of the Monadnock region."
Dr. Silbey helped introduce the practice of using certified athletic trainers as primary clinical support staff with orthopaedic surgeons in New Hampshire. He serves as the Medical Director of the Sports Medicine Program, which supports Keene High School, Monadnock Regional High School, Fall Mountain Regional High School, and the Keene Swamp Bats. He is also the team physician for Keene State College's Athletics Department.
Dr. Silbey has provided sports medicine care since 1992. He joined Cheshire's Orthopaedics Department as an orthopaedic surgeon in 2001. He completed his Doctorate of Medicine at Columbia College of Physicians and Surgeons in New York and his orthopaedic residency at Duke University Medical Center, where he was chief orthopaedic resident from 1990-1991. He completed a sports medicine fellowship at the University of Pittsburgh Medical Center in 1992. He holds board certifications in Orthopaedic Surgery and Orthopaedic Sports Medicine.
In addition to providing consultation services to local sports teams, Dr. Silbey has been a sports medicine consultant to the Pittsburgh Pirates baseball team, the Cincinnati Reds baseball team, the U.S. Soccer Federation and the Sarasota Ballet Company of Sarasota, Florida. He is a member of the American Academy of Orthopaedic Surgeons and the American Orthopaedic Society for Sports Medicine.