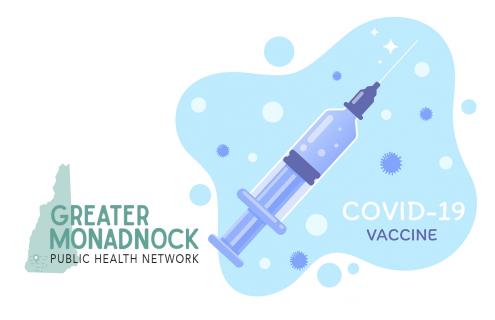 The COVID-19 vaccination site for the Monadnock Region will be relocated to an indoor facility at 62 Maple Avenue in Keene on Tuesday, June 1, 2021. Anyone with a scheduled appointment for the Krif Road, Keene State Athletic Complex site on this date or after will be notified of the location change from the state. Appointments prior to June 1 remain unchanged. For a limited time through May 29—Monday through Saturday from 3 to 6 pm—people without a scheduled appointment can get their first vaccination dose at Krif Road.
"We're thrilled to be relocating to an indoor facility," said Tricia Zahn, Director of the Greater Monadnock Public Health Network (GMPHN). "We appreciate the support from Keene State College to use the Krif Road location. They have been wonderful hosts, and we were able to provide 68,638 vaccines as of May 25. With our new location, we won't need to contend with challenging weather situations."
The vaccination site at Krif Road was an outdoor clinic and used a drive-up system where people stayed in their cars during the entire vaccination process from check-in through the final observation time.
The Maple Avenue location is the former Peerless Insurance Agency building, now owned by Cheshire Medical Center. Anyone with an appointment should follow the signs that indicate where to park and enter the building on the northeast side near the back half of the building closest to Route 12.
If someone goes to the Krif Road site by mistake, they do not need to worry about missing their scheduled appointment. They should proceed to 62 Maple Avenue, just over 4 miles away and about a 10-minute drive. There will also be signs at Krif Road with information about the new location.
Anyone 12 years and older can schedule a COVID-19 vaccine appointment in New Hampshire by registering at the New Hampshire COVID-19 Vaccine website. During the registration process, individuals can select from a list of locations and time options. In addition to appointments at the Maple Avenue location, individuals can schedule their vaccine at many pharmacies in the area. Those without a computer or internet access can call 2-1-1 or (603) 271-5980 to register for a vaccine.
For frequently asked questions about the COVID-19 vaccine, please visit our COVID-19 Vaccination web page.