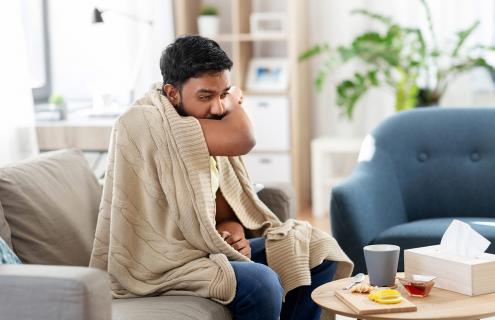 With more people wearing masks during the pandemic, there were significantly fewer cases of the common cold and flu. Other habits that help to reduce infections include handwashing, practicing social distancing, and being more aware of how germs spread from one person to another.
"Symptoms of runny nose, nasal congestion, and cough, are particularly worrisome for spreading of viruses. If you have these symptoms, even if mild, wearing a mask in public and getting tested for COVID are both important measures," says Marika Henegan, MD, medical director of Urgent Primary Care Visits and Keene Ambulatory Respiratory Evaluation Service (KARES). "Home measures that have helped in the past with cold and flu symptoms are still a great idea," she says. "But, adding a COVID test to your home plan can really help us determine how best to care for you and how long you should stay home."
Staying healthy and preventing illness
There are many things you can do to stay healthy. These tips will benefit you and others since they will help reduce the chance of spreading germs. If you have children, these tips are important for them to follow also.
Prioritize healthy habits like doing regular, moderate exercise, getting 7 to 9 hours of quality sleep, and eating nutritious food.
If you haven't already, please make sure you, your children, and other loved ones get vaccinated for COVID-19 and flu at one of our upcoming Fall 2022 vaccination clinics.
Thoroughly wash or sanitize your hands regularly.
Disinfect high-touch objects like your phone.
Stop touching your face — especially your eyes, nose, and mouth.
Wear a mask when you are around others who may not be vaccinated or who have any symptoms that could be allergies or a cold.
What to do if you have a cold, flu, or possibly COVID symptoms
If you're suffering from upper respiratory infection symptoms such as nasal congestion, sore throat, or cough, stay home and follow the steps on Dartmouth Hitchcock Medical Center's Important tips for both self-quarantine and self-isolation and the CDC's What to Do If You are Sick page.
With both flu and COVID-19, you can be infectious—likely to spread the virus to others—for one day before you develop symptoms and for at least seven days after your first symptoms. You can self-schedule a COVID-19 PCR test or seek assistance from your Primary Care Provider's office via your myD-H account or by calling 603-354-6760.
Flu, the common cold, and COVID-19 are viruses, so antibiotics do not work to treat these illnesses. Most people recover by taking over the counter cold medication, getting plenty of rest and fluids, and staying home.
Headaches, runny noses, and sore throats are shared symptoms with some allergies, colds, flu and COVID-19. Both flu and COVID-19 can have lasting health effects or cause severe disease for seniors and other people with compromised immune systems. If you are at risk for severe disease, please monitor your symptoms carefully.
Dartmouth Hitchcock Medical Center shares helpful information about What to Do If You Get The Flu, including emergency warning signs for adults and children. If your symptoms are serious or you are at high risk, seek medical advice from your Primary Care team. Your provider may schedule a Virtual Visit with you.
If you feel you need urgent medical care today for serious symptoms, call the Urgent Visits team at 603-354-5484. If you have any of the emergency warning signs, listed by DHMC and Clinics, call 9-1-1 or get to the Emergency Department.
Self-care
When you have cold, flu, or possible COVID-19 symptoms, it's best to stay home and take care of yourself. You'll be able to fight whatever is making you sick faster by resting as much as possible and staying well-hydrated with water and caffeine-free tea. Staying home gives you downtime to allow your body to fight the virus and will stop you from spreading whatever you have to others.
"In Pediatrics, we know it is stressful when your child is sick, but we know with medical advice from a provider, parents can manage most illnesses at home," says Pediatrician Gerri Rubin, MD. "Telehealth — a Virtual Visit — is an excellent way for us to assess the severity of illness so you will know if your child can stay home safely. We encourage all eligible children five years and older to get the COVID and flu vaccines at one of Cheshire's upcoming pediatric vaccination clinics, a clinic at their school, or a local pharmacy."
The same advice Dr. Rubin shares for children is also true for adults.