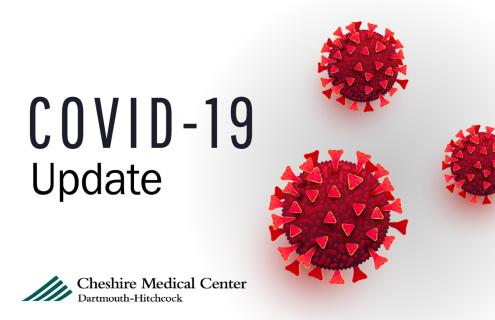 The situation with the COVID-19 pandemic continues to evolve rapidly. Cheshire Medical Center and all members of the Dartmouth-Hitchcock Health (D-HH) system are seeing marked increases in active COVID-19 cases.
As of Thursday, December 2, Cheshire Medical Center suspended all non-emergent procedures and surgeries. Affected patients will be notified and each case is carefully reviewed. This is a necessary step to make bed space available for severely ill COVID-19 and high acuity patients.
Other D-HH member hospitals are also prepared to take steps as they become necessary, reducing or delaying non-emergent surgeries, among other strategies to make bed space available for COVID-19 admissions.
The state of New Hampshire now has the highest rate of COVID-19 infections per capita out of the 50 U.S. states plus the District of Columbia, with over 400 people hospitalized with active COVID-19 infections, marking a 40% rise in the past 14 days. At present, around 18% of hospital inpatients in New Hampshire have COVID-19 (39% in ICUs).
As of Tuesday, November 30, D-HH members were treating a total of 62 COVID-19 patients, including 33 patients at Dartmouth-Hitchcock Medical Center in Lebanon, 15 at Cheshire Medical Center in Keene, 1 at Alice Peck Day Memorial Hospital (APD) in Lebanon, 4 at Mt. Ascutney Hospital and Health Center in Windsor, VT; 2 at New London Hospital; and 7 being followed by Visiting Nurse and Hospice of Vermont and New Hampshire.
Overall, per the CDC data (on Dec. 1, 2021), 65% of the NH population is fully vaccinated with many having also received or signed up to receive a booster dose. However, Cheshire County is hovering around 54% of its total population vaccinated. Unfortunately, this is still insufficient to stop the spread of the virus, with lower rates of vaccination in younger age groups who have had less social distancing and mask use in public (fewer than 50% fully vaccinated under the age of 30).
Dartmouth-Hitchcock Health and leadership at Cheshire Medical Center continue to strongly advocate for COVID-19 vaccinations and boosters and for all individuals, regardless of vaccination status, to:
Wear a mask when indoors with others beyond your home.
Social distance from others and increase ventilation indoors.
Frequently sanitize or wash your hands.
Avoid indoor gatherings whenever possible.
Isolate when sick & stay home if you have been exposed to someone who may have COVID-19 or flu.
Please do your part to stop the spread of viruses that require many community members to be hospitalized for severe illness. Learn more about COVID-19 vaccinations and boosters, exposure and symptoms, prevention, and testing at cheshiremed.org/covid