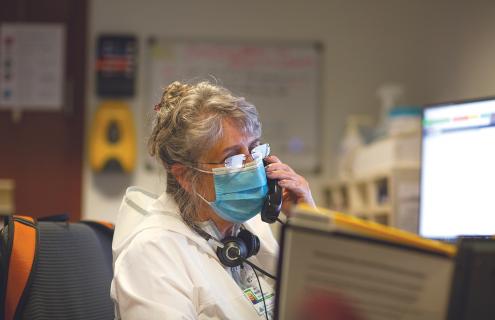 Before March, 2020, when a call came into the telecommunications center at Cheshire Medical Center, it was most likely a community member asking to be connected to their primary care provider or to a specialized unit.
Now, with COVID-19 on everyone's minds, the operators have an extra demand: helping people get the correct answers to the questions about how the pandemic might be affecting their health.
"The call volume increased dramatically in the beginning of the pandemic," says Maureen Ovitt, telecommunications manager for both Cheshire and Dartmouth-Hitchcock Medical Center in Lebanon. "It was something no one in the community had ever dealt with, and the anxiety was through the roof for everyone."
Typically, callers are looking for their doctor or an inpatient, Ovitt explains. After normal business hours, callers may be experiencing a medical issue and need a return call from the on-call care provider. Operators do not give medical advice, but they do help callers get connected with the right people at Cheshire, whether that's a specialist, a primary care provider, or the emergency room. The pandemic brought a new level of concern to the telecommunications team.
Catherine Graves, who was hired just before the pandemic hit, witnessed the sharp rise in callers' anxiety at the beginning of the pandemic and need for assurance that the hospital was safe. Now our region is experiencing community spread of the virus, many callers are looking for answers to whether or not they should quarantine because of possible COVID-19 exposure and how to be tested.
"It is the nature of this job that some of our callers are in crisis when they call in," she says, "but the feeling of fear in the community is something we don't normally encounter. Callers are worried about possible exposure at the hospital and we reassure many of them that it is indeed safe, and important, to still come in for serious medical concerns. Fortunately, we have been able to quell most of these concerns, since the hospital is exceedingly careful about the safety of patients and staff."
Ovitt notes that Cheshire's culture of collaboration supports the team's efforts to handle challenges. "Everyone is an equal at the hospital," she says. "You get a sense of camaraderie the minute you walk through the door. It's really important that people talk to each other because that impacts the level of customer service we can provide to our clients."
Because of this collaborative culture, the telecommunications team feels valued.
"While we don't treat patients, we are still very much a part of the daily function of the hospital," Ovitt says. "All of us are aware of our roles, and how all of these moving parts serve Cheshire's goal of patient care."