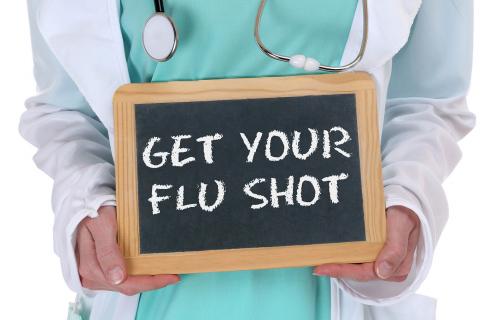 Cheshire Medical Center's flu clinics have been more eagerly anticipated this year than ever before. The Centers for Disease Control and Prevention (CDC) is asking all Americans who can get a flu shot to do so this year, as it is especially important during the COVID-19 pandemic.
All Cheshire and Dartmouth-Hitchcock Health flu clinics are by appointment only this year. Walpole and Winchester clinics are held on Fridays and Keene clinics are held on Saturdays throughout October with drive-through options for the whole family. View current flu clinic information.
"Now more than ever it is important to get your flu vaccine," says Kristen Lippincott-Battey RN, BSN – clinical leader of Family Medicine and Pediatrics, and organizer of Cheshire's drive thru clinics. "Everyone in the community is working hard to keep the public safe during this pandemic. It's imperative that each person does their part to take steps to help protect our community."
"Getting your flu shot is a step that you can take," adds Lippincott-Battey. "The flu shot not only helps protect you against illness, but also protects your loved ones, friends, and neighbors. Please help us keep everyone safe."
Health care workers at Cheshire and other community medical centers worry that even a mild flu season could stretch testing, urgent care and ICU capacity this year. That is, if our community sees the predicted winter increase in COVID-19 cases as people move indoors to less-ventilated spaces.
Marika Henegan, MD, medical director of Cheshire's Walk-In Care clinic in Keene says their challenge is "to safely care for and advise patients with symptoms that may be related to flu, other respiratory illnesses, or COVID-19," as it can be tricky to tell the difference.
In fact, Alok Khole, MD, infectious disease physician at Cheshire warns it is possible to have both flu and COVID-19 at the same time. To complicate matters, people can get or spread both COVID-19 and flu while the infected person doesn't yet know they are sick.
Henegan adds that while the COVID-19 fatality rate is 10 times higher than flu, many people are still hospitalized and die of flu-related complications each year. We need to keep as many people healthy as possible so quality care is available for all who do need it. That means every person "getting vaccinated for influenza if you can, continuing to be diligent with hand washing and mask wearing in public spaces, and staying home if sick."
If you have severe symptoms that could be either flu or COVID-19, such as a severe cough, shortness of breath, high fever, or difficulty keeping up with fluid intake, call your primary care provider or the Walk-In Care Clinic. Henegan offers "We provide support through nursing advice, phone or video visits with a provider, or can advise you of where and how to be seen in-person if that is necessary."
See up-to-date information on flu clinics, symptoms, and more.