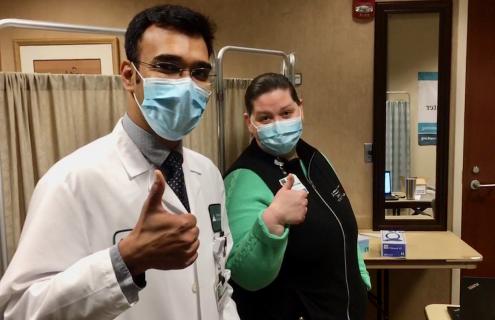 Cheshire Medical Center received its first shipment of 180 doses of Pfizer's COVID-19 vaccines on Thursday, Dec. 17, 2020, from the state of New Hampshire, and the first group of prioritized high-risk employees was vaccinated on Friday.
"This is indeed an exciting time. The moment that we all have been waiting for has arrived—the vaccine is one of the first major interventions to getting out of this pandemic," said Aalok Khole, MD, infectious disease physician at Cheshire.
COVID-19 vaccine prioritization guidelines for the distribution and administration of the vaccine have been determined in alignment with the US Centers for Disease Control and Prevention (CDC) and the Advisory Committee on Immunization Practices. Since the vaccine supply in the United States is limited at first, the CDC recommends that the first vaccine doses should be allocated to high-risk health care personnel and long-term care facility residents. For more information about vaccine distribution to the public, visit the NH COVID-19 Vaccine Planning page.
A committee comprised of staff members from Employee Health, Center for Population Health and Infection Prevention, and Human Resources at Cheshire and across the Dartmouth-Hitchcock Health System (D-HH) has been working to create the priority list of high-risk employees fairly and equitably.
Cheshire's Associate Medical Director and EMS Medical Director Jim Suozzi, DO, received the first COVID-19 vaccination on campus. "The process was straightforward, and I feel fine," Suozzi said. "It was no different than a flu vaccine. I believe it's the right thing to do. I believe in the science. It's also the right thing to do for my patients, my family, and the community."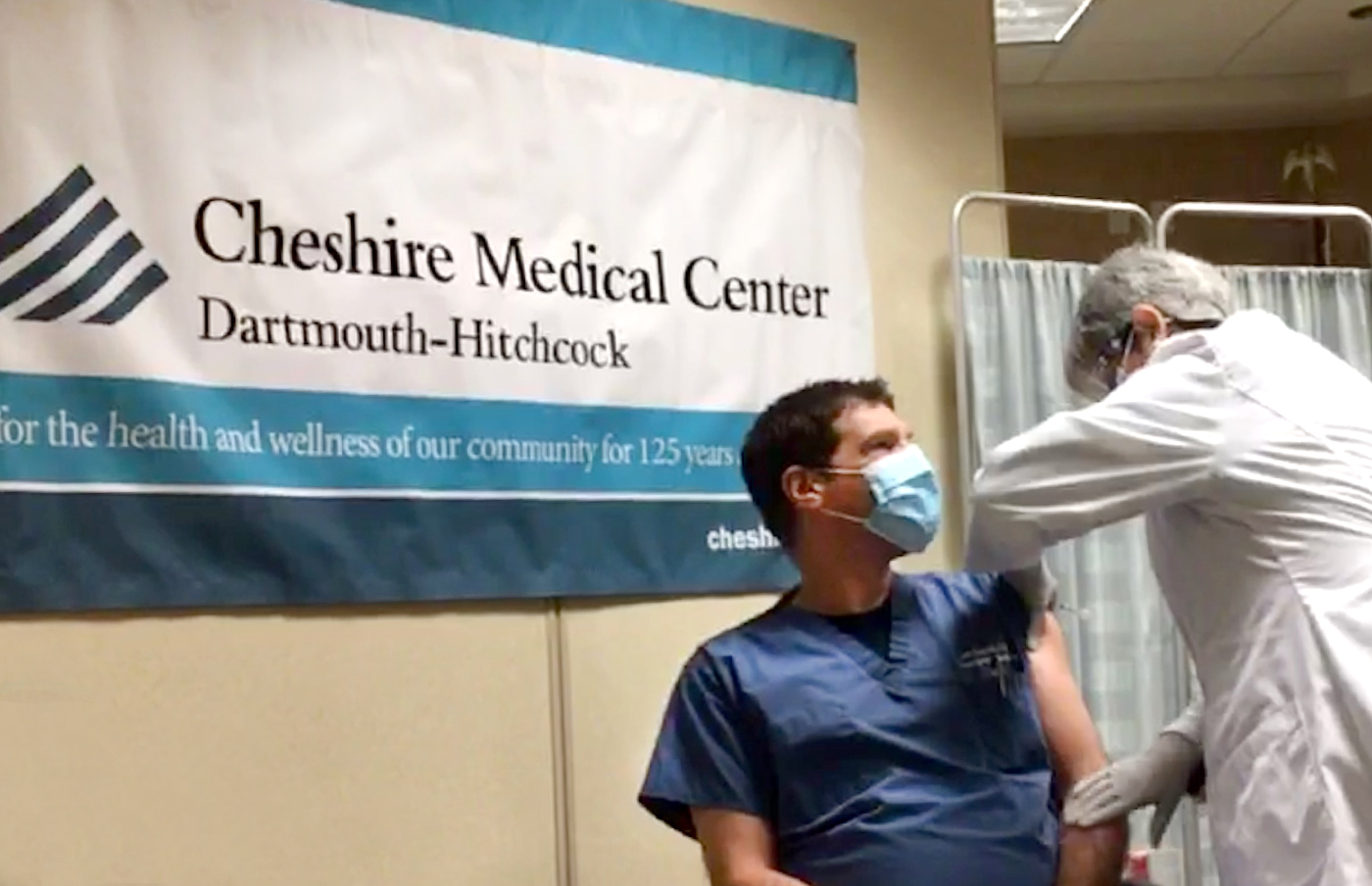 Cheshire expects to receive vaccine doses weekly, with the goal of offering it to all employees over the next three months. The Pfizer and Moderna vaccines require two doses, spaced 21 and 28 days apart, respectively. Employees will need to receive the second dose within the designated timeframe.
Kristin Bakke, an ED technician in the Emergency Department, said the shot didn't hurt at all and explained that she wanted to be vaccinated to protect herself, her family, and her community. She also urges all community members to get vaccinated whenever they are able.
Seeing hope on the horizon, Dr. Khole said, "with vaccination strategies, the disease burden goes down and likely the rate of transmissibility will then go down. We expect that once we vaccinate 60 to 70% of the population, herd immunity sets in. This is the stage where people who have not been vaccinated will be protected as well."
Officials estimate herd immunity may not be reached until the summer of 2021. "In the meantime," says Don Caruso, MD, president and CEO of Cheshire, "it really is important to keep wearing your mask. It really is important to socially distance and stay at least six feet away from individuals, as well as very good handwashing." As the virus starts to surge here, we need to work together to flatten the curve again until we achieve herd immunity.
To learn more about COVID-19 and vaccinations, visit our website's COVID-19 Information section.